Membership Software for Pools, Swim Clubs, & Aquatic Centers
| Written by
CommunityPass
|

Back

Whether you operate a municipal pool, private swim club, large aquatics center, or splash park, your days are filled with selling memberships and passes, checking people into your facility, and facilitating engaging programs.
That's why many leaders like you turn to pool membership and swim club management software. With the right solution, you can easily register members, monitor facility entry, process payments, market your memberships, events, and programs, and report on it all with ease.
However, it can be hard to determine which tools are best for your community pool. How can you know what features are absolutely essential, and which ones may not be necessary for your organization?
Just keep reading! We're going to break down the most important pool membership and swim club management tools through the following topics:
Feel free to click to the section that interests you most. Or, if you're ready to get started, let's jump straight in!
1. Diving into Pool Membership Software Features
Without loyal members, your pool staff wouldn't have kids to coach, adults to fill your aquatics classes, or people coming to swim for fun. Pool membership software only makes managing members easier, giving you and your staff more time to come up with fun programs to engage your community.
But which software features should you be looking out for? What kind of solution do you want to invest in? While the tools you need will likely depend on your facility's unique needs, below are the essential features every aquatic facility should have.

Online Membership Registrations & Payments
Pool membership software has to help your members register and pay for memberships with ease. Instead of paying in cash at the pool, your software should allow people to register and purchase passes online. This way, all of your contact information is centralized in one system, you can manage sales with capacity limits, and physical cash handling can be avoided.
For this to happen, you have to think about how your software can support your members. That said, make sure you have the capabilities to offer various membership tiers and options like: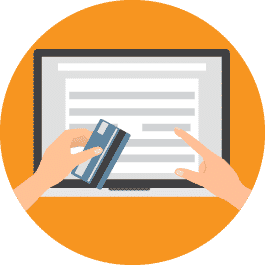 Individual memberships.

Family memberships.

Seasonal and recurring memberships.

Day, guest, and free passes.

Punch cards.

Multi-sibling discounts.

Resident versus non-resident rates.
With options like these, your current and potential members will appreciate the variety of choices they have and you'll be able to increase your membership population. Ensure to clearly display all membership options within your online platform which will make registration a convenient and easy process!
To make the member registration process even more streamlined and accessible, it's important to invest in a 100% cloud-based solution. This way, individuals can sign up online for any membership (or even register for a swim team you host!) whenever and wherever they are.

Pool and Aquatic Facility Management Tools
Your software solution shouldn't just aim to support your members and make their lives easier— it should be doing the same for you and your staff members as well! Make sure your own pool and aquatic facility management tools incorporate the following features:

Cloud-Based Software
Your municipal pool membership software should be 100% cloud-based. This means that no matter where you are, your team and members can access your system and reference up-to-date data.
With cloud-based software, your pool membership solution can provide you with access to key insights on membership trends and facility usage at any given time and place.
Capacity Management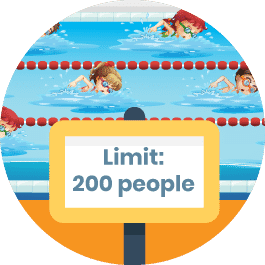 Make sure your pool software has the capabilities to manage restricted facilities and ensure they stay within capacity limits. Consider the following:
Reserved time slots.

Some software enables members to reserve a time when they can use the pool.

Princeton, NJ found great success with this

. They used their pool membership software to ensure that their swim patrons can reserve and purchase a swim session or block of time. The organization administrator can set capacity limits for each session, too.

Customized capacity.

Make sure capacity management is completely customizable, from the attendance limit to more specific types of memberships. The right software will let you customize capacity for the amount of season passes sold, how many day passes are sold each day, etc.

Real-time reporting.

With a 100% cloud-based solution, you can easily access and refer to data in real-time from wherever you are working. On-site reports are a handy way to gauge how many people might be at a facility at a given moment and is a key tool for tracking capacity.
Multiple Location Management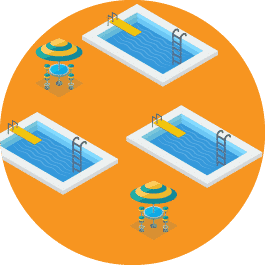 Perhaps your municipality has multiple pools, each with their own community of members and programs. It can be challenging to determine the best way to manage just one pool or aquatic center.
Does your software track memberships, sales, and attendance for all your pools in one integrated platform? Does it allow you to report on your pools individually and collectively?
To keep all of your data and processes centralized, yet individual for each location, your software should set up specific front desk point of sale interfaces or gate check solutions for each particular location.
On that note, reporting should be able to be run per location, too. For instance, imagine you see a dip in membership retention at one of the locations. Focus on the data coming from that particular pool to better determine the cause and tweak your engagement strategies.
2. Swim Club Management Software Contactless Check-In Solution
One of the most hectic parts of managing a municipal pool or swim club is facilitating check-ins and check-outs. This is a crucial step, especially if you want to verify your patrons' memberships and passes and ensure you account for everyone in attendance.
Pool Check-In Software
A fast and smooth contactless check-in process can bring your pool experience to a whole new level. Say goodbye to long lines with the right pool management and swim club software. Not only can you better keep track of who enters your facilities with one system, but the right solution can provide tools to make checking in even easier and safer for both members and staff.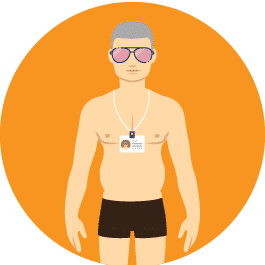 Your pool software should be able to do the following:
Member ID card creation

. Your software should enable your staff to easily create reusable and scannable membership ID cards and key fobs with photos. When every member has their own unique card or fob, you never have to worry about fraudulent pool entry because you'll always have a record of who is at your municipal pool at any given time. Member ID cards are important when it comes to an emergency. Should anything happen, you'll know who is at your facility in real-time.

Contactless facility entry.

Using a barcode scanner is a key way to quickly let individuals into a facility in a completely touchless manner. Scanning member ID cards conveniently verifies membership or a day/guest pass admission and allows people to access your pool or aquatic center with ease.

Point of sale interface.

If pool members forget their ID cards, front desk staff can use a POS system to quickly look up pool members by name or another identifier and check them into the facility or into an aquatics class. They can even sell them a membership or day pass on the spot!

Check-out options.

Along with checking in members and guests, you should also have a contactless check-out option, like scanning an ID card or pass. Having a digital check-out capability gives you the most accurate count of how many people and exactly who is in your facility at any given time.

3. Planning and Marketing Your Pool's Programming and Events
Your pool and swim club management software can even help you plan and market exciting programs and events. This is critical, as these experiences and opportunities are key reasons why members join your facility. Unique and engaging programming is also a great way to secure annual renewals.

Swim Club Management Software Features
Many municipal pools and swim clubs offer a variety of classes for swim lessons, lifeguard training, and other aquatics activities.
With all of the programs and events you offer, your software solution should make it easy for the members of your community to sign up. Don't make potential registrants wait in line to register for a class. Ensure that they can: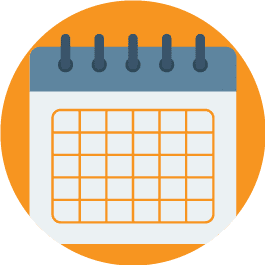 Browse an online catalog of programs, classes, activities, and memberships.

Pay for the program or event online through a secure and integrated payment processing tool.

Know their eligibility for a program with a screening tool that verifies residency, age, and other registration requirements.

Be aware of alternate pricing and discounts for siblings, early registration, residents and non-residents, and more.

Explore additional options like volunteer sign-ups and even merchandise or ticket sales for events.

Swim Team Management Tools
If your facility hosts a swim and/or dive team, you might want to consider online tools that cater to those specific needs. Swim teams will frequent your pool for practices and competitions.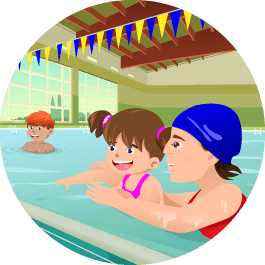 Use your software solution to set up a program dedicated to swim team registrants. This could be the place where they register and pay for dues, uniforms, and transportation using your secure payment processing tool.
If your swim team program involves managing a roster and integrating scheduling capability from a third party, you should also look into league management software. This type of solution can help facilitate the creation of multiple teams, and even automate coaching and member assignments.
If this is something you're interested in and want to learn more about, take a look at our comprehensive article dedicated to league management software.

Marketing and Communicating with Pool Members
In order to effectively communicate with members and other frequent visitors, make sure that your swim club management software offers integrated marketing and communication tools. If you can't easily email or text your community, you should consider different software.
Your communication options should allow you to filter your aquatic community in various ways. For example, you should be able to email one family, one swim team, or your whole membership base at once depending on your needs.
This is a great way to market specific events, programs, or important dates to the most relevant audience! You can email your entire community when a new registration season has opened or text previous swim team members about the next date for swim team tryouts.
To expand on your marketing efforts, make sure you can also personalize your communications, both email and text, with the data in your membership database. In fact, emails with personalized subject lines are 26% more likely to be opened.
In addition to marketing events, these communication capabilities are important for relaying critical and time-sensitive information. This is true for any recreation facility but is especially important for outdoor community pools and aquatic centers. Here are some examples of how email and text messaging is an invaluable tool for your swim club:
A summer thunderstorm has just rolled in and you need to alert your team and their parents that the meet has been postponed for three hours to wait out the storm.

A swim class has been canceled last minute because the instructor was sick; similarly, you can let parents know ahead of time if a different instructor will take their place.

The community pool will be closed for cleaning or maintenance on a certain day and it will reopen the next day.
Your members will appreciate the outreach, and you won't have to worry about turning members away because they didn't know the pool was closed!



4. Payment Processing Capabilities For Your Aquatic Center
This has been mentioned briefly in the previous sections, but the last essential tool we'll be discussing is the ability to process payments through the software itself.
This option offers you the convenience to do all your payment processing through the software provider. This avoids the hassle of dealing with the customer support teams of both the software provider and the payment processor. You also won't have to worry about a third-party processor's own standards and procedures. Integrated payment processing is a key feature of top pool membership software.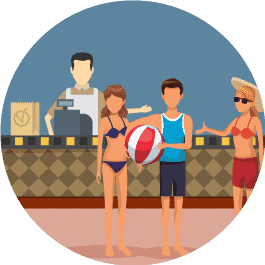 At a minimum, your payment processing solution should:
Accept credit/debit cards, check, eCheck, and cash.

Offer card on file and automatic recurring billing.

Allow you to issue refunds and credits.

Let you easily reconcile payments with registrations.

Enable you to view, download, and email monthly statements.

Maintain PCI compliance.
An integrated payment processor that powers your online registration site makes online membership purchases and registration fees a snap for your community. No more waiting for checks to be mailed or having lines outside of your office on registration day!
However, membership and registration fees aren't the only instances of payment processing that you need to consider. Does your community pool operate a concession stand or sell equipment like goggles and swim team uniforms? Do you sell day and guess passes on site?
If so, you'll need software with point of sale capabilities, so that you can efficiently process transactions on site. This should integrate with your community pool's cash drawers and printers.
Having an integrated POS solution will also help your municipal pool's financial reporting capabilities. Software that includes POS capabilities and integrates with your financial reporting allows you to track trends in purchases and preferences without worrying that something has been forgotten.
In addition to all of these processing features, your community pool staff should look for software that enables them to track daily deposits and transfers, reconcile credit card and bank statements, and generate invoices and payment reminders. All of these tools are crucial for ensuring the financial health of your community pool.



5. Make a Splash with Pool Membership and Management Software from CommunityPass
Instead of picking and choosing individual tools, consider a comprehensive online pool and recreation management solution like CommunityPass. Since 2003, CommunityPass has supported communities with software that helps them to better manage recreation departments, park districts, before and afterschool programs, and, yes, municipal pools, swim clubs and aquatic centers.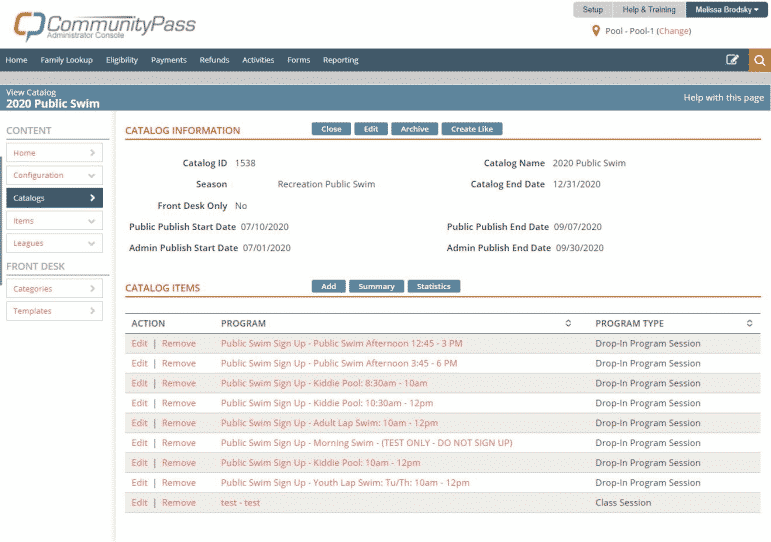 The above screenshot is a view for administrative users of CommunityPass when they set up their pool/aquatic center program catalog in the system. This provides a comprehensive view of the programs offered, as well as the individual sessions. With the clear navigation menu up top, leaders like you can easily explore the software.
CommunityPass uses the above features, as well as the following capabilities, to make pool and aquatic center management even easier.
Flexible and configurable software.

The flexibility and configurability of CommunityPass software make it a dynamic solution for pools under any conditions. Through CommunityPass, a pool or aquatic center can easily adapt membership and sign-up protocols to manage capacity and facilitate a smooth, seamless registration process. Use of membership ID cards and CommunityPass' front desk point of sale system ensures fast, contactless customer check-ins and a smooth flow of traffic into the facility!

Ability for remote work.

You never know when you and your staff members might have to pivot to a purely virtual workspace. Whether in-person programs are on pause or you have an employee who needs to be home to watch their own kids, CommunityPass' 100% cloud-based system allows staff members to work at home while still having access to important data and processes.

Donation collection.

All industries have ups and downs. If your own programs are struggling to make ends meet, CommunityPass can easily let your supporters give back. Process online donations and then use them for future programming and to support your staff.

Contact tracing.

Thanks to its real-time reporting capabilities and secure, contactless check-in and check-out processes, it's easy to gain a comprehensive view of who has been at your aquatic facility at any given time. This can especially be helpful with compliance in case there is some sort of outbreak.

Easy membership renewal.

Members can choose to keep their credit cards securely on file so that when they want to renew their pool membership online or register for a swim instruction class, they can do so quickly and easily. They can also sign up for automatic billing for recurring memberships and programs that they participate in regularly.

Access to individual programs and registrant data.

Your staff can tag different programs as requiring different documentation, and then track each registrant's documentation status. Your staff can also create and customize online forms for registrants to fill out with their registrations. With this option, you can ensure that you have everybody's medical alert record or parental waiver when necessary. You'll never worry about losing a piece of paper with electronic forms and document tracking options.

Comprehensive reporting features.

With CommunityPass, your staff can access data in real-time such as occupancy trends, membership renewal, and total daily sales

.

Even the data from your online forms, such as swim team uniform sizes, gets rolled up into reporting. CommunityPass offers over 300 pre-built reporting templates and an easy-to-use report builder tool so you can customize reports to meet your aquatic center, swim club or municipal pool's unique business needs.
With CommunityPass pool membership software, you'll improve the way you manage sales, facility entry, marketing and communications, reporting, and more! When operations run smoothly, your pool can generate more revenue and you can focus on creating more programming that your community will love.
GET YOUR FREE DEMO!