Parks and Recreation Software: Top Features + Best Solutions
| Written by
CommunityPass
|

Back


From pool memberships to sports teams to community events, your parks and recreation organization likely has its hands full when it comes to managing recreation programming. While it's great to provide so many valuable offerings to your community, management can also grow unwieldy and overwhelming for your team.

If you're looking for a comprehensive system to help you more efficiently manage your recreation operations, it's time to purchase a new parks and recreation software solution. These tools help reduce the burden on your team, streamline your processes, and make things more convenient for you and your community members alike.
To help you decide which parks and recreation software to invest in, this guide will explore everything you need to know before making your decision:
Your recreation organization has unique needs and a unique audience. That's why you don't want to invest in just any software solution—you need to choose the right solution that will fulfill your specific needs and cater to your specific audience. Let's begin with an overview of recreation management software.
What is parks and recreation software?
Parks and recreation software, also known as recreation management software, is a tool that streamlines all of the operations management activities involved with operating a recreation organization by moving all administrative tasks into one solution.
Using parks and recreation software comes with a variety of benefits, including:
Greater efficiency.

Parks and recreation software automates administrative tasks such as registrations, facility reservations, and membership renewals. This saves staff and volunteer time, allowing them to work on other activities that will help improve your organization.
Enhanced community satisfaction.

With a dedicated parks and recreation solution, your community will be able to conveniently register for activities and make payments from the comfort of their own home. There'll be less busy work involved, which leads to greater satisfaction in their experience with your recreation agency.
Increased revenue.

By enhancing satisfaction, members of your community will be more likely to attend your programs. This will increase your revenue, which you can then put back into creating an even better experience for program attendees.
Improved operations.

Track maintenance schedules, plan activities, manage facility bookings, and even send marketing communications with parks and recreation software. Elevate and future-proof your operations with a solution that's scalable and grows with your organization.
Investing in parks and recreation software nets you these benefits by uniting all management tasks in one comprehensive tool. However, not all solutions are equal, and not all solutions will be the most beneficial for your organization. That's why it's crucial for you to carefully investigate the features included in the parks and recreation software you're considering purchasing.
What are the essential features of parks and recreation software?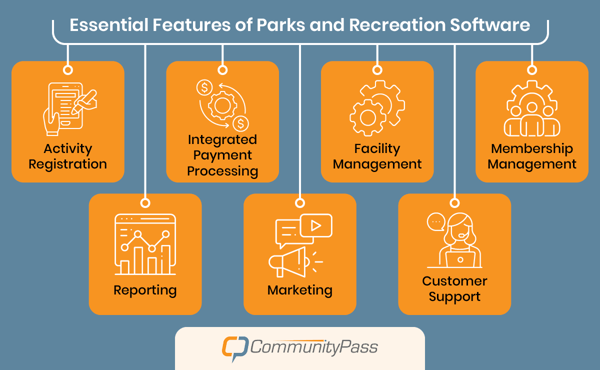 In the following sections, we'll explore some of the most universally important features to look for in a parks and recreation software solution. The goal is to assist your team in the buying process by giving you an idea of what to look for as you compare solutions.
Activity Registration
Activity registration is an important parks and recreation software feature that makes it easy for people to register and pay online for sports, activities, classes, and more. Online activity registration makes the process much faster and easier for potential attendees, as they won't need to leave the comfort of their homes.
Look for parks and recreation software with an integrated online program catalog. This will make browsing, searching, and registering for activities simple. People can find all the details they need in the catalog including:
Program descriptions
Eligibility
Instructors
Sessions
Time
Dates
Costs
As an added bonus, the catalog will be accessible to your community online, 24/7, so they can check your offerings at any time, in any place.
Online activity registration is also a more convenient way to collect information for your organization. Instead of keeping physical paperwork for every participant, everything is available online. This makes it easier to manage documentation, collect payments, download attendance sheets, and even reach out to registrants via email and text.
Your parks and recreation software should allow you to create customized online forms for:
Emergency contact information
Medical information
Media releases
Permission slips
Waivers
If your organization is providing value to your community, then your visitors will be likely to register for multiple activities. However, activity registration forms are often extremely similar and ask for the same information, which may be frustrating for registrants.

Choose software with the ability to save your participants' family account information. This way, all registrations thereafter will automatically populate the same information, making the process even simpler. Easier registration processes mean more registrations and more registrations can lead to more revenue!

Integrated Payment Processing
Search for parks and recreation software with integrated payment processing so community members can conveniently make payments online. That way, you'll have one complete and secure solution that streamlines registrations.
Integrated payment processing makes payment collection easier to manage for your organization. Your parks and recreation software should:
Allow community members to pay for purchases by credit card, debit card, or eCheck.
Maintain payment card industry (PCI) compliance standards to keep data safe, ensuring that credit card transactions are secure, legitimate, and protected from fraud.
Manage refund requests and chargebacks.
Enable members to keep their payment method on file to simplify future payments.
Facilitate memberships by allowing recurring payments.
Make it more convenient for your organization to monitor and manage the funds collected for registrations and purchases.
Create monthly reports and statements to increase your understanding of the financial health of your programs.
Aside from these specific capabilities, you should also have access to support from your parks and recreation software provider's customer service team. They can answer any requests or questions you may have regarding payment processing on an ongoing basis. If you have any concerns about PCI standards or general payment processing, be sure to contact them to get clarification.
Facility Management
A large draw of parks and recreation organizations is their facility space, which can be reserved and rented for events, classes, and sports. Commonly rented venues include community centers, parks, fields, rooms, and gyms. But how do you keep track of who has access to which facility and when?
Maybe you're using a calendar on your website or even a paper calendar in your office. Instead of these outdated methods, parks and recreation software offers a much more convenient facility management solution.
Facility management is an important recreation software feature that makes it easy to:
View available facilities
Request and approve reservations
Avoid costly double bookings
A centralized master calendar feature informs people in your community about which facilities are available and when. Community members can find this calendar on your site, helping spread the word about different events and programs as people browse. And, it'll minimize the booking requests your organization denies because people can easily see the unavailable times on the calendar.
When choosing your parks and recreation software, look for a solution that allows you to require administrative approval to reserve facilities. With this feature, your administrator can review, update, apply charges, or add requirements to a facility request prior to approving or declining it.
Membership Management
Membership management enables your organization to enhance engagement by selling memberships online or in-office for all types of centers, pools, tennis facilities, and more. Offer different pricing tiers for individuals, families, residents, and non-residents to make your memberships and programs more enticing.
With this software feature, you can offer benefits such as barcoded photo membership cards and keyfobs. Staff will be able to quickly scan members in and out of a facility, which makes attendance easy to track. When you can monitor which visitors are in a facility at any given time, you can effectively ensure facility safety.
Be sure the membership management feature of your parks and recreation software provides you with many different types of membership packages and options. These commonly include:
Seasonal passes
Day passes
Guest passes
Free passes
Recurring memberships
Choose a parks and recreation software that offers membership auto-renewal and expiration reminders. That way, you can inform members that their membership is expiring hassle-free. Plus, if the software solution also offers automated payments, then your members won't have to worry about renewing their membership manually. These features make it easier for you to keep your members engaged with community programming and offer them convenient ways to stay involved.

Reporting
It can be a real hassle for organizations to keep track of all the data they collect and put it to good use. Comprehensive reporting is a key parks and recreation software feature designed to help you stay informed with real-time, accurate data. This data provides actionable insights to help you make smarter decisions that will positively affect your organization and the community you serve.
Reporting features enable your organization to access data such as:
Program registrants and rosters
Attendance
Financial data and statistics
Advanced parks and recreation software should allow your organization to access a variety of pre-built reports, which can save time and simplify the reporting process for your team. They will also give you access to a report builder and designer tool so you can customize reports to your organization's unique needs.

With your recreation management software, you should also be able to export reports to spreadsheets and integrate data with your organization's financial system to enable your finance department to easily access data for audit preparation.
Marketing
Having amazing programs and membership offerings won't matter if your community members haven't heard of your organization. That's why having marketing capabilities in your parks and recreation software is crucial.
Common marketing features that parks and recreation software solutions offer include:
Community website.

A community website will list your organization's programs, classes, services, and facilities. That way, interested members of the community can go to a single website to find all that information. Furthermore, they'll be able to browse through your programs and classes. If any of these offerings interest them, they'll be able to conveniently register.
Targeted messaging.

Targeted messaging will help you gain recurring registrations from community members that have attended one of your programs previously. You can personalize emails and texts to target specific groups of individuals, increasing the chances of a positive reception. Additionally, you can schedule future messages to be delivered to create a messaging series, appealing to community members and resulting in more registrations.
These features make it easier for organizations such as yours to promote your facilities and programs, helping you create a positive impact on the community.
Customer Support
Have you ever had a problem with technology and had a difficult time getting the help you needed? Make sure this doesn't happen when you're choosing your parks and recreation software provider.
Choose a software solution that offers:
Free, unlimited technical support via phone and email.
24/7 emergency support.
Professional implementation and training.
An online library with help and training resources.
A reputation backed by outstanding customer service reviews.
Your parks and recreation software provider should be your trusted partner. Make sure that they specialize in building relationships with their customers. If things ever go wrong, you need to feel confident that your questions and requests will be addressed in a timely manner and that someone will be there to provide you with personalized support.

Considerations for Purchasing Parks and Recreation Software
If your organization has decided to purchase a parks and recreation software solution to streamline your operations, ensure that it has the features above. However, those aren't the only criteria that you should base your decision on.
Other considerations to keep in mind include:
Price.

Keep your

budget

in mind and ask yourself how much of your funding you can allocate to parks and recreation software. If you're a smaller organization, your options may be more limited.
Your needs.

Although it's nice to have a variety of features and options, consider what exactly you need out of your software. Search for software solutions that align with your needs to ensure that you get the value you desire.
User-friendliness.

Minimize training time by choosing a user-friendly solution that makes it easy for your team to complete their daily tasks. You can determine this by signing up for demos or watching product videos.
Data security.

When you're managing a parks and recreation organization, you'll store a lot of sensitive information about community members and their payment methods. Ensure that this information stays safe by investing in a software solution that offers data security features.
Scalability.

Chances are that your organization won't stay the same size throughout its existence. That's why you need a scalable solution that will grow alongside your organization. If your community expands or your organization's needs change, your parks and recreation software should give you the option to add new features, alongside expanding the capabilities of existing features to help facilitate your growth.
When evaluating a potential parks and recreation software solution, make sure to check the reviews and see how other organizations feel about it. Pay special attention to reviews from organizations that are the same size as yours to get a better understanding of how the software will help you. You can also check case studies to see how the software solution improved other organizations' operations.
7 Best Parks and Recreation Software Solutions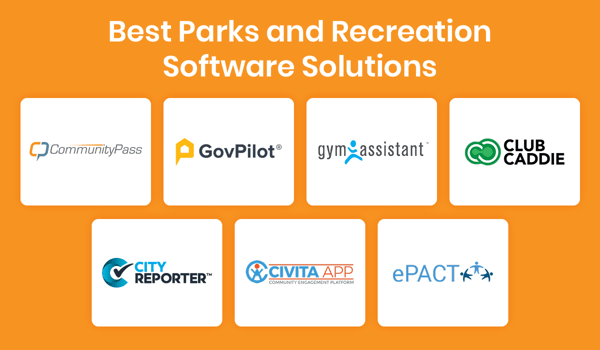 Now that you know the basics of parks and recreation software, which features are essential, and some important considerations for choosing a software solution, let's take a look at the seven best parks and recreation software providers.
1. CommunityPass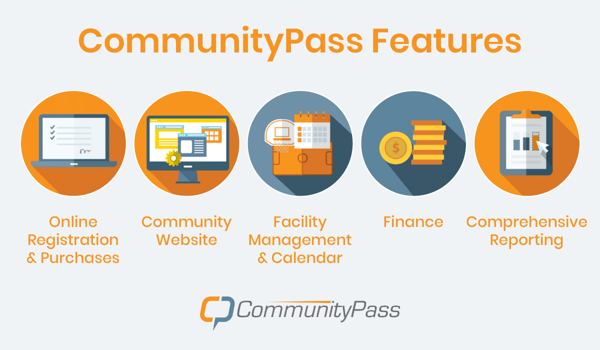 CommunityPass is a leading parks and recreation software provider that offers all of the aforementioned software features and more. With over 20 years of recreation experience, CommunityPass is the expert in offering a complete software solution that will meet the needs of your organization.
Some of the features that CommunityPass offers include:
Online Registration & Purchases.

You'll be able to easily process registrations and payments, making them hassle-free for both your team and community members alike.
Community Website.

Create a professional-looking community website with your online program and class catalog. Allow community members to easily browse and read about programs to gain more registrations.
Facility Management & Calendar.

Manage bookings and zone conflicts for your facilities on a single, centralized calendar. Upload photos of your facilities so that community members know what they're booking.
Finance.

Make tax season and financial reporting easy for yourself by tracking revenue and credit. You can also manage expenses through CommunityPass to further streamline your operations.
Comprehensive Reporting.

With over 325 pre-built reports, CommunityPass has got you covered, regardless of what data insights you need. And if none of those reports fit your needs, you can use the report builder and designer to customize reports to show you the information that you need to help improve your parks and recreation organization's programs.
CommunityPass was designed by recreation professionals with you in mind. With them, you'll find a scalable solution that's customized to your organization's specific needs. Their team will help activate your account, set up e-commerce options, and configure your software solution exactly to your needs. They offer online help and training, including webinars and videos. And, if you need help urgently, CommunityPass has 24/7 emergency phone and email support to get you up and running again.

2. GovPilot
This parks and recreation software solution focuses on government organizations. GovPilot offers a unified operating system built specifically for local governments. One of its solutions is parks and recreation department software, which enables governments to provide constituents with digital parks and facility management.
Some of the parks and recreation features that GovPilot offers include:
Boardwalk Vehicle Permit
Boat Ramp Application
Bonfire Permit
GIS Map
Marina Lease Application
Spray Park Application
Use of Government Facilities Application
With these features, citizens will be able to submit permit applications and payments to use government parks, fields, facilities, and other venues. This automation expedites operations and helps government employees efficiently prepare for events. For example, they'll know ahead of time that they need to cordon off the street for an official block party.
3. Gym Assistant
A parks and recreation software for gyms, health clubs, and fitness centers, Gym Assistant is both powerful and affordable. A proud member of the IHRSA, the Global Health & Fitness Association, this software solution offers features specifically made for fitness businesses.
Some of their unique offerings include:
24/7 Access Control.

Gym Assistant can control the opening of doors, turnstiles, and even tanning beds. Members in good standing are allowed entry after scanning a barcode or proximity card, and they'll be checked in on the system with a date and time stamp.
PhotoCapture.

Personalize memberships with Gym Assistant's photo capture capabilities, which allow you to take and add a photo to each member's records. You can also set up this feature to record images during automated check-in.
TimeClock.

This feature makes it easy to track your employees' time on the job. Team members can conveniently clock in and out, and you'll have access to an hours summary report, with totals for each employee. You can also check who's clocked in at the moment to see which staff members are available.
Gym Assistant is ideal for small to medium-sized organizations, and it is able to import data from other membership programs for a smooth transition. This parks and recreation software mainly focuses on empowering your organization to sell memberships but has add-ons that allow you to sell physical retail merchandise, such as drinks, supplements, and clothing.
4. Club Caddie
Club Caddie is an award-winning, all-in-one golf facility management software. Built by golf industry professionals, it's entirely cloud-based and easy to use. It's able to handle the needs of public, semi-private, and country golf course operations. You can also use it for golf simulator businesses.
Some of its features include:
Point of sale. With this parks and recreation software, you can accept multiple payment methods for a variety of services and items, including beverage carts, bars, gift cards, and lesson packages.
Golf facility reporting. Not only does Club Caddie offer in-depth financial analytics for your club, but it also tracks golfer information, such as purchase history, spending, and rounds played.
Facility event management. Whether it's for a banquet, wedding, league, or golf tournament, this software solution helps streamline the planning process by tracking client communications, managing deposits, and analyzing costs and profits.
Club Caddie is the solution for golf facilities aiming to grow their revenue and improve their operations. Whether you're a single-course or a multi-course golf club, this parks and recreation software will help you attract new business and provide a great experience for your customers.
5. City Reporter
Built for public services and operations, City Reporter is a mobile-friendly parks and recreation software solution that helps local governments to streamline workflow, maximize productivity, and ensure consistency. One of its many capabilities concerns parks and playgrounds.
This capability focuses on helping governments track, improve, and resolve efficiency and risk management issues from anywhere. You can use it to log and store the information necessary for park and playground safety inspections, which expedites the inspection process and ensures that no maintenance tasks slip through the cracks.
Inspection crews can use a smartphone or tablet to complete their inspection, making it more convenient. Other features include:
An integrated work order module
Color-coded symbols for issues and hazards
Instant increased awareness of pre-issue detailing
Easy access or post-issue information for workers
City Reporter understands how important it is to keep your facilities safe for citizens, whether they're children in a playground or adults walking in a park. Without routine inspections and maintenance, there's a higher chance of injury. This parks and recreation software is dedicated to preventing that, by making it easy to take preventative measures.
6. Civita App
Civita App helps cities of all sizes improve community engagement by connecting information related to services and activities in one parks and recreation software solution. Civita App makes use of the rise of mobile usage with an out-of-box solution that is quick to implement and seamlessly integrates with existing systems.
Through Civita App's cloud-based app, you can conveniently reach your community to connect and collaborate. Keep them up to date on local events, activities, and news to increase engagement. By using this software solution, you'll also be able to reduce calls and handling costs with their report-issue feature.
The app is completely customizable, allowing organizations to change designs and data displayed within it. You can also note local landmarks and add notification alerts for when residents are nearby, so they can learn more about the city as they explore. And, you can promote your local economy by adding a directory for dining, shopping, and other businesses. Civita App makes it easy for your community to learn more about the place that they live in.
7. ePACT
This parks and recreation software automates emergency and health forms and integrates seamlessly with other recreation management systems. ePACT helps your organization save time and collect more accurate customer information.
ePACT works by:
Replacing binders of paper forms with a single account and real-time dashboard.
Integrating with recreational management software.
Collecting accurate, easy-to-read information like health records and emergency information forms.
It allows you to access records of all members, participants, students, players, and employees under your care and supervision. By doing so, it makes your life easier by streamlining information collection. It also helps reduce the risks and liabilities involved with managing sensitive information by being SOC 2 compliant.
Additional Resources
There are many different viable options for parks and recreation software that your organization can invest in. Make sure to take the time to do thorough research on the solutions you're interested in. Don't be afraid to book demos or schedule calls to help you get a better understanding—remember that whatever solution you decide on, it'll be changing the workflow of your entire organization.
For more information about parks and recreation, check out these resources: