Pool Membership Management: The Ultimate Guide & Tools
| Written by
CommunityPass
|

Back

Picture this: It's a hot summer day, perfect for lounging by the pool. And while your guests are looking forward to a day full of relaxation and fun, things look a little different in your office.
It's an all-hands-on-deck effort, with staff members working hard to keep lines short, get guests through the gate, issue safety reminders, and sell concessions. The staff members handling your membership program are especially stressed. New members want membership packages that fit their lifestyles, current members want to get into the pool quickly, and the phone keeps ringing with prospective members asking about your pricing and upcoming programming and events. Once the craziness has died down at the end of the day, it's clear that your staff isn't looking forward to trying to deal with all the moving parts of your membership program again tomorrow.
If this situation sounds familiar, you're not alone. Many swimming pool, swim club, and aquatic center leaders have experienced the challenges of trying to manage their facility's membership program without having a clear strategy. And, as you know, this challenge not only affects your hardworking staff. It also affects your members, who want to get the most out of the membership they're paying for. And, more generally, it affects all of your guests who want a fun and safe experience at the pool. If you staff is stretched thin, wait times will be long and safety may even be compromised.
So, you know something needs to change. But where do you start?
The answer lies in solid pool membership management. Here at CommunityPass, we know that improving how you manage your pool membership program doesn't just happen. It takes research, learning, and the right tools. That's why we've created this ultimate guide to give you a leg up in the process. In it, we'll walk you through everything you need to know about pool membership management, including:
If you're ready to streamline membership management for you and your team and improve the membership experience for your guests, reading this guide is a great place to start. Let's jump in!


What is Pool Membership Management?
Pool membership management is the process of optimizing your swimming pool, aquatic center, or swim club's membership experience for every member.
This involves doing everything from selling membership packages to making sure your facility is safe and secure. But there's much more to it than that! Here are some other responsibilities aquatic facilities typically take on to boost the membership experience:
Creating membership packages: Every member has different needs. For a membership program, most facilities need to set individual, family, and couple pricing levels. They might offer senior or early-bird registration discounts, too. It's also a good idea to determine how members can use their membership to access the facility. For example, maybe they will present a punch pass at the front desk, swipe an ID card, or use a key fob.
Planning and managing programming and events: People join a pool membership program because of the value they get by paying to be a member. Programming like swim lessons and exercise classes, as well as events like summer pool parties, are great ways to demonstrate what members are getting for their money (in addition to offering a great experience during each of their regular visits).
Managing lines, wait times, and pool capacity: No one likes to wait in line to get into the pool only to get in and find there are no available lanes in the lap pool or there's an hour-long wait for the diving board. Keeping people moving through the gates and managing lines, wait times, and capacity for each activity within a facility is an important part of keeping members happy.
Monitoring the check-in and check-out processes: Enforcing check-in and check-out processes for members will help facilities track who is coming and going at the facility. Plus, these processes help teams gather useful information about members such as how often they're actually using their memberships.
Keeping your pool safe and secure: Putting rules in place (like no running) and requiring all guests to check in and shower off before gaining access to the pool helps keep everyone safe and provides a great experience for those paying for membership perks.
Communicating with members: Whether a facility is reaching out to members about a new swim aerobics class or letting them know about an unforeseen pool closure due to inclement weather, providing clear and useful communication is also be a big part of pool membership management.
Marketing your membership program: A membership won't do guests (or a facility) any good if no one knows it exists! Part of a strong pool membership management strategy will involve spreading the word about pricing, programming, and perks to attract new members and retain current members.
Managing memberships for multiple locations: If an organization maintains multiple facilities, it may have hundreds or even thousands of memberships to manage. Meeting the needs of different groups at different locations will be critical.
Clearly, pool membership management involves a lot of moving pieces. But there's no need to be overwhelmed if you see responsibilities on this list that you want to manage better or start weaving into your team's approach. You simply need to create a well-thought-out strategy that your team can implement and use to stay organized and efficient.



5 Pool Membership Management Best Practices
To help you get started designing or revamping your pool membership management strategy, let's take a look at some best practices you can implement to make your team's internal processes more streamlined and effective. Note that some of these best practices may need to be tweaked or customized to fit your specific team or your members' needs.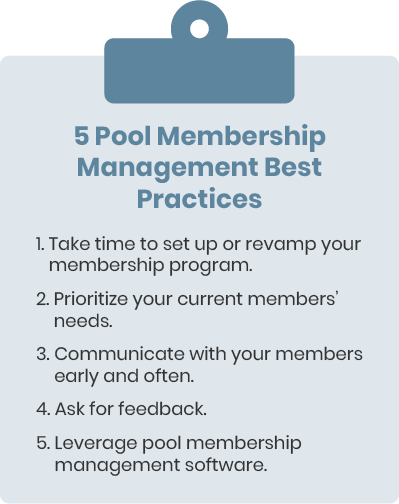 1. Take time to set up or revamp your membership program.
Is your facility new and just getting its membership program up and running? Or, have you been wanting to adjust your different pricing levels or add a new class to your programming for a while? Take the time to sit down with your team and think through what you want your membership program to look like. If something isn't working or could be improved, find a solution.
Think of it like this: If your pools' guests suddenly started returning to your concession stand and giving constructive feedback to your staff about the taste of the hot dogs you sell, you would take the time to re-evaluate the ingredients and the process of preparing those hotdogs to ensure you were giving your guests the best product possible. Your guests may not be actively alerting you to the drawbacks of your membership program, but like your concession stand customers purchasing hotdogs, you want to make sure they're happy with their membership experience. This is why it will be important for you to proactively make adjustments to your membership offerings from time to time.
This will be much easier to do for outdoor facilities that are only open for part of the year. If you're trying to find the time to sit down and work through changes to your membership program as a year-round facility, try setting aside time during maintenance closures to do so. This will pay off as your members have better and better experiences with your program!
2. Prioritize your current members' needs.
Any business expert will tell you that it's always most cost-effective to retain a customer than to pursue and convert a new customer. So it is with your pool's members. Avoid looking beyond the mark and thinking only about marketing to new members or improving your program for potential or future members. Instead, focus on the members you have now — the customer right in front of you.
Doing so won't just help you retain your current members. It will also turn your current members into ambassadors for your facility! When they love your program, they'll recommend it to family, friends, and coworkers.
3. Communicate with your members early and often.
One of the best ways to show your members the value of your program is to communicate the ways that they can get the most out of your program. Make so you do so often and well before opportunities like classes and events happen (so members can mark their calendars). Here are some ways you can get into the habit of communicating frequently with your members:
Send out a monthly class calendar or events newsletter.
Start a blog on your website about swimming-related topics like nutrition or cross-training.
Create social media profiles for your facility and use them to announce everything from seasonal hours to new additions to the concessions stand.
Set up text alerts to let your members know about class cancellations, maintenance closures, or closures due to inclement weather.
Making the effort to communicate with your members will show them that they are your priority. And when they feel valued by your organization, they'll want to continue to renew their membership for future seasons.
4. Ask for feedback.
Not sure what your members think of your membership program? Instead of wondering or trying to read their minds, ask them! You might, for example, send out a survey to ask them about the cleanliness of your locker rooms or the classes they'd like to see in the future months. Asking for direct feedback from your members takes the guesswork out of pool membership management and gives you information you can take action on. For example, if a majority of your survey respondents note that your locker room's soap dispensers never work, you can get the problem fixed. Or, if multiple parents let you know their children love taking lessons from a particular swim coach, you might add more sessions with that coach to next month's calendar.
5. Leverage pool membership management software.
It is possible to manage all of your membership management tasks with nothing but a paper and pencil and simple point-of-sale system, but it's certainly not ideal — not for your team, and certainly not for your members and other guests. This is where pool membership management software comes into play, which can help you take all of your tasks online and eliminate stress and disorganization from your internal processes.
You may be thinking, "Is pool membership management software worth it?" Don't worry — the next section will cover this in depth!
---
Each of these best practices can strengthen your approach to your pool's membership management strategy. To implement them, take into account your specific facility's needs and processes. And don't forget to ensure that all of your team members are on the same page with your new strategy. Doing so will strengthen your internal working culture and help you present a stronger brand to the public.



Pool Membership Management Software: Why You Need It
Pool membership management software can be an asset to any community pool, aquatic center, or swim club with a membership program to plan for, oversee, and streamline. The key is finding the right solution with features that can eliminate your specific facility's membership program challenges. As you research different solutions, take the time to consider each tool and the features offered. Here are some top features we recommend you look for:
Customizable membership packages
Organized member database
Tools to create membership ID cards or key fobs and other tools to help you move members through gates quickly
POS system to help collect and track payments on site
Marketing capabilities to help promote your programs and special events
Our Favorite Platform: CommunityPass
While you can assemble your own toolkit by picking and choosing platforms that offer one or two of these features, the most effective option is an all-in-one cloud-based software platform like CommunityPass. We offer all of the features listed above and more! Here are some of our additional tools that are catered specifically to aquatic centers and pools like yours:
Flexible and dynamic software
Ability for remote work
Donation portal
Easy membership renewals
And more!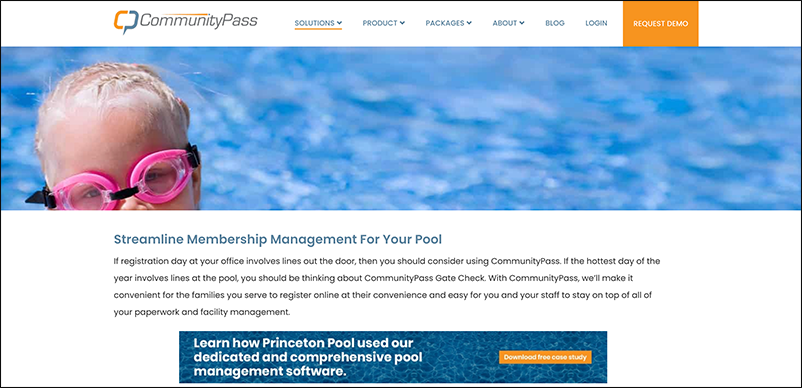 CommunityPass is one of the most trusted platforms for pool membership management for a reason. We understand your unique needs as a pool manager or director and are dedicated to helping you access solutions that can streamline your team's working experience, retain your members, market your program, and boost revenue. We're ready to dive into the deep end with you!
Conclusion
Running your pool's membership program doesn't have to be a headache-inducing, paper-pushing, frustrating experience. With a pool membership management strategy infused with best practices, you can provide your pool's members with a great experience and keep everything running smoothly. Plus, with a software platform like CommunityPass on your side, running your membership program will be even easier than you could have ever imagined.