Camp Registration Software: Have Your Best Summer Yet!
| Written by
CommunityPass
|

Back

The summer is an especially busy time of year for municipal staff and recreation centers. Why? Because of summer camps! When children are out of school for the summer, their parents are desperate to find ways to fill their children's days with fun, engaging, educational activities.
Summer day camps are where kids get to learn more about the topics they're interested in that might not be focused on at school. Town recreation centers across the country host day camps that allow children to swim or take swim lessons, make arts and crafts, play sports, and engage in other fun activities with their friends.
All sorts of organizations, from municipal governments and rec centers to parks and recreation departments and community schools, have all the ingredients that they need to run a successful day camp: passionate staff, plenty of ideas, and a population of excited children ready to play. But there's something else that they need to run a summer camp: camp registration software.
Camp registration software is a crucial resource for any organization that wants to organize and manage fun, safe activities for children. Having the right software for your organization frees up the hands and minds of your staff by automating parts of the summer camp management process. You can focus on the fun parts of the camp, while your camp registration software handles the rest.
Choosing the right camp registration software is a process that your rec department or community school should take seriously. Your summer camp software should support every step of camp planning and execution. To walk through the features that your organization will need, we'll break down running a summer camp into three parts:
Before camp ♦ During camp ♦ After camp
If you're ready to learn more about the most important aspects of camp registration software, let's get started! You and your campers, with the help of summer camp software, are going to have the best summer ever.

---

1. How Online Camp Registration Software Helps Before Camp Starts
Choosing the right camp registration software is important long before your first campers ever show up for the first day. The right camp registration software will help your department to organize your plans, market your camp to the right families, and make registration a snap.

Summer camp program planning.
The key to planning a successful summer day camp is understanding what your community wants. The key to understanding what your community wants lies in your existing data! As a parks and rec department, community center, or local school, you should already have an understanding of what the families in your community are interested in.
Look through the registration trends for your programs through the fall. Do your arts and crafts camps for kids under 10 outperform your sessions for older age groups? Are your dance camps particularly popular? Whatever your data indicates as a viable option, plan a day camp for it!


Marketing your summer day camp.
Once you've established what type of day camp you're going to run, it's time to make sure that your community knows about your fun summer plans. Your camp registration software should offer features that will drive both residents and non-residents to your summer programs.
It's easy to determine to whom you should market your camps—just think about your members, frequent visitors, and past program participants. For a children's day camp, consider reaching out to the following groups: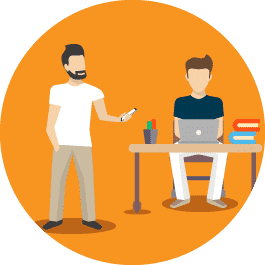 The parents of children who have attended programs throughout the year with similar focuses.

Members with children in the right age range for your camp.

Residents and non-residents who have participated in your

before and aftercare programs

throughout the year.
You should use this strategy to market every camp that you plan for the upcoming summer. But how will you reach all of these people in an efficient and effective way?
Your camp registration software should offer a variety of built-in communication tools for sending out both alerts and marketing materials. In this case, you should look for summer camp software that allows you to create contact lists based on:
Membership status.

Registration status.

Age or grade designations.
Then, you should be able to schedule emails and text messages to go out at the right times to notify parents about registration opening dates, deadlines, and new programs.

Registration and payment.
Once you've marketed to the right people, it's time to ensure that the registration process is as intuitive and convenient as possible so that the parents in your community can secure their child's spot at your camp immediately.
Registration is an incredibly important part of your summer camp's process because it ensures that you have the funds necessary to run your camp, as well as enough kids to fill the spots! When choosing the right summer camp registration software, make sure you choose one that offers multiple registration process options as well as payment options.
Your department should be able to accept registrations through:
The internet.

You should be able to upload your camp schedule to a customer-facing website where parents can browse your offerings, choose their favorites, and register for camp(s) as easily as possible.

The phone.

Your parents should feel confident that they can call your office and secure their child's place at summer camp without worrying about being left behind by the online registrants.

The mail.

The same thing goes for attendees registering by mail. Some people are just more comfortable with that option, so your department should be equipped to handle these registrations and put them into your registration software easily.
With so many different ways to accept registrations, you must also have different ways to accept payments. You'll need registration software that can accept and track payments via credit and debit cards, check and e-Check, and even cash.
However, registration trends indicate that more and more parents are registering their children for camps online. Therefore, it's crucial that your software provides online registration and payment capabilities that make it as convenient for parents as possible.
Important online camp registration software features include:
Discount options for families/siblings, early registrants, and residents.

The ability to keep cards on file, which is convenient for on-the-go parents.

Tracking of important documents per camper, like waivers, codes of conduct, and permission slips.

Customizable online forms so that you can easily collect and access medical/allergy alerts, t-shirt sizes, and emergency contact information.

Add-on purchases for merchandise like t-shirts and camp bags.

Trip, meal, and transportation registration.

To keep your camp registration process running smoothly, don't forget to look for features such as waitlist and maximum capacity options, flexible scheduling for parents who work and need pre and post camp hours, and different sessions of camp to stretch throughout the summer.
Bonus! Make sure your campers and parents can sign release of liability waivers online when they register participants. Smartwaiver allows you to embed your digital waiver on your website or send a link via text message or email so parents can easily sign from their computer or mobile device.
Now that you know what your registrants need in your camp registration software, let's discuss how summer camp software makes managing a summer camp easier and safer.
---

2. Run a Successful Summer Camp with Camp Management Software
Once you've registered the children in your community for your day camps and you're ready to get started, it's time for your staff to use camp registration and management software to organize your camps. Your summer camp software should help your staff plan manage facility scheduling, handle check-in and check-out safely and efficiently, and communicate with parents should anything arise.

Safe check-in and check-out processes.
When your department runs summer camps for children, you know that the parents in your community are entrusting you and your staff with the safety and well-being of their children. That's a responsibility that you take seriously, and that your camp management software should take seriously, too.
When picking out the right software for your community center or parks and rec department, look for features that make checking campers in and out easy for your staff and parents and safe for the children in your care.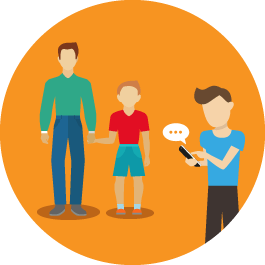 Check-in during the mornings can be crazy. Parents and guardians will be flooding in and out, trying to give goodbye kisses and get to work on time. Make the mornings a little less crazy by finding software that empowers your check-in staff to use every tool available to them to check kids in on a convenient tablet!
Choose a camp management software that offers a mobile-friendly attendance interface so that multiple staffers can check children in on tablets, instead of being tethered to one computer in the morning. This feature will also be delightfully useful in the evenings when parents come to reclaim their children.
Camper safety is crucial in every aspect of your day camp, including drop-off and pick-up. So make sure that your camp management software offers attendance safety features like:
Authorized signatures, so your camp can always know who picked up which child.

Pictures of adults authorized for pick-up, so that parents are comfortable allowing children to be picked up by an older sibling or babysitter.

Automatically generated attendance lists, so that you always know which campers are on site at any given time.
The attendance lists will also be helpful in monitoring early drop-offs and late pick-ups, so that your camp can assign fees when necessary.

Parent communication.
On the topic of child safety, keeping parents in the loop is a priority. Remember how we discussed the importance of quick and easy communication tools when choosing camp registration and management software? This is another time that those tools come in handy!
When your summer camp software allows you to email and text parents from the software, you can rest assured that the parents of your campers will never worry about how their children are doing and can easily be kept in the loop when unexpected circumstances arise.
Some common examples of quick texts that keep parents happy and in the loop are:
"The trip to the pool is canceled due to inclement weather."

"Reminder: There's no camp tomorrow due to the July 4th holiday."

"Two spots have opened up in our final session of Baby Dance Camp. Register today!"
Busy parents will appreciate the reminders that you send, and you'll also be able to update them about the status of the camp session whenever you need. Communication is key to happy parent relationships, so make sure to prioritize this feature in your summer camp management software.
---

3. Using Your Camp Registration and Management Software After Camp is Over.
Mid-August is a sad time of year. Camps are wrapping up, back-to-school is in full swing, and the days are getting shorter. But your use of your camp management software isn't over! You now have a summer full of data stored in your summer camp software, and you can use that data to make important decisions for next summer's camps.

Reporting capabilities.
The data that you have stored in your camp registration software can tell you a lot about the highs and lows of your day camp, like what was popular and what wasn't. Your summer camp software should offer you an easy way to view and analyze that data.
Choose a camp management software that offers both pre-built report templates and a custom report building tool so that you can look at the data most important to you, in ways that make the most sense for your organization.
Data that you might want to report on and analyze for the future includes:
Expenses and profits for your camps, either by session, by program, or overall.
Student attendance.
Camp popularity.
The popularity of specific trips and outings.
Drop-off and pick-up trends.
Your camp management software should also have financial reporting capabilities beyond expenses/profits, like reconciling registrations with bank statements. When you have an easy way to see and explain the data you collected over the summer, you can use those insights to plan for next year and make your camp program even better.

Marketing, again.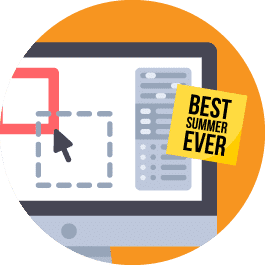 The marketing capabilities of your summer camp registration software aren't only useful for advertising your camps. Take advantage of the contact information given to your organization and make sure that families know that the fun doesn't stop when the summer ends.
Use your communication features to remind parents that the activities their children enjoyed the most can be pursued throughout the fall via your rec or community center's programming. You can target these messages by each individual camp to make sure that the people who are the most interested are kept up-to-date!
Demonstrating to families in your community that your parks and rec department or park district has engaging and exciting activities all year round is a great way to ensure that residents stay active in your programs and that your membership numbers increase after the summer ends.
---
Keeping all of these features in mind can be difficult. There are so many aspects to summer day camps that camp management software should manage. Instead of worrying about finding multiple software solutions to handle separate processes, choose CommunityPass and rest assured that your camp needs will be met.
Our comprehensive online camp registration and management software for community organizations, local governments, and park districts is a great solution for any department that wants to run a day camp that's safe, efficient, and fun. Plus, your organization can choose any number of software add-ons to meet its unique needs.
But we don't only offer camp management software! Check out our favorite additional resources about all kinds of community-centered recreation:
Sports League Management Software

: Running a sports league for children is fun and rewarding, but difficult! Learn how sports management software can make it easier from our quick guide.

Purchasing Parks Management Software:

Buying the right software for your park district can be nerve-wracking. Take the stress away from the process by reading through our buyer's guide for parks management software.

Tips for Running a Better Summer Camp Business:

Managing a summer camp, while fun and fulfilling, is ultimately a business endeavor. Make the most of your summer camp with this guide from the experts at the American Camp Association.