Parks & Recreation Management: COVID-19 Resources and Tips
| Written by
CommunityPass
|

Back
As COVID-19 continues to affect the global economy and encourage more people to stay inside, Parks & Recreation professionals across the board are scrambling to figure out their next steps.
Here at CommunityPass, we value health and safety first. The way society operates is changing every day on a global, national, and local level. We urge you to regularly check the WHO and CDC websites, as well as your local and state jurisdictions to get the latest guidelines and updates on how this global pandemic might affect your parks & recreation programs.

Though many national and state parks have already begun to close and large crowds are now banned, this doesn't mean parks and recreation professionals have to stop all operations. You are actually in a position to continue offering experiences that can help keep your community occupied while at home or virtually.
We've written this guide to help parks and recreation leaders traverse this unfamiliar landscape and offer resources and best practices. It's best to follow along from the top, but you can also jump to the section that most interests you:
Above all, we want to keep your community safe and answer key questions that many of you likely have. Let's get started.
Parks & Rec Management Best Practices during COVID-19
It's no secret that this global pandemic has affected all aspects of life. This means restaurants have to close, meeting friends is out of the question, and all other non-essential activities are discouraged. Parks & recreation management is no different, and many facilities are unsure how to navigate safe social distancing practices while still providing exciting opportunities to engage their community members.
Being a Parks & Recreation professional, you understand the importance of these drastic measures. As parks are closing, various community programs are getting canceled, and in-person events are postponed. Your next actions should and must reflect these new guidelines.
If you do decide to keep some parks open, make sure you enforce safe social distancing practices and update your community with resources and clear protocols. Feel free to share the following image with your community: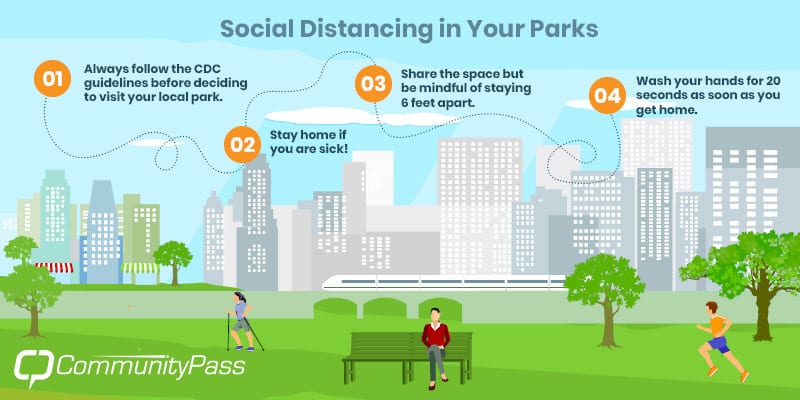 However, as we all begin to navigate this new normal, it's difficult to ignore the immediate effects and not worry about the long-term impacts on your programming.
Besides making sure your operations are following health guidelines, you need to consider how you'll:
Keep your community updated on new changes

Set up a reliable and scalable work from home plan to ensure staff members are on the same page

Prepare non-traditional recreation programming to keep community members engaged

Handle the financial and societal impacts this disruption will have on future Parks & Recreation programming
Whether you want to offer virtual programming opportunities or just improve how your team communicates while still maintaining safe social distancing, your best bet is to move your processes to a web-based solution— and sooner is better than later.

How Recreation Management Software Like CommunityPass Can Help
CommunityPass is a dedicated recreation management software solution. Founded in 2002, CommunityPass was launched by people just like you: Parks & Recreation professionals.
Not only is CommunityPass beneficial for day-to-day recreation management, it's also a helpful solution for those that are struggling with the new virtual necessities brought by COVID-19. Consider the following ways CommunityPass can help you: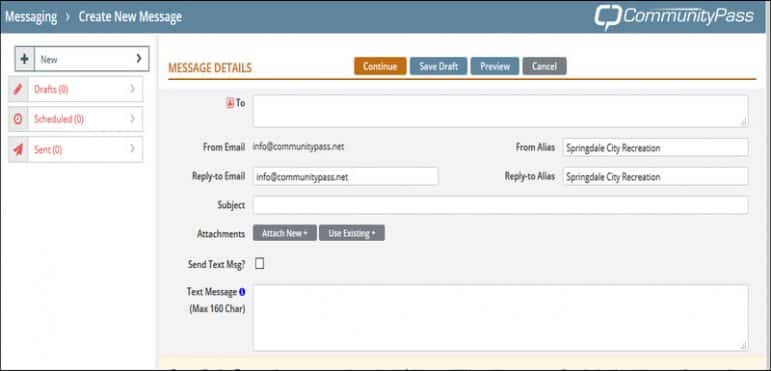 Easily let your staff work from home via a cloud-based system.

This way, you know that all data and operations are centralized and up-to-date. As your staff members are safe in their own homes, they still have access to all the important internal processes they need.

Keep in touch with community members

with the Message Manager tool and the Public Calendar on your website! Make sure to regularly update your community members with any new changes to your programming.

Bring your programming online

by sending out the relevant links through custom receipts or to the entire roster via Message Manager. Simply ask your community members to register online for a virtual program and then CommunityPass will help provide the right links!

Send out community best practices and activities

to help pass the time while people are self-quarantined. Scavenger hunts, biking, and walking are all great ways to stay active while still practicing safe social distancing.

Manage virtual programming

with CommunityPass' Instructor Site tool. This lets program leaders and educators manage activities and classes online. All within CommunityPass, they can take attendance and even directly contact students!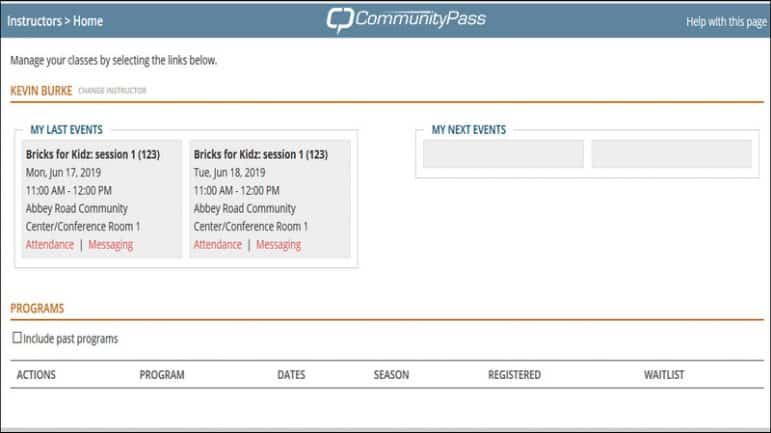 Quickly alert new registrants of updated cancellation policies. As your policies and program guidelines change, CommunityPass gives you free control to customize your online registration. Admins can incorporate customized forms with the updated policies within the
registration process.
Get staff and your community ready for future programming.

With CommunityPass, you can start working on your future registrations now and take advantage of social sharing features to spread the word.

Collect donations for COVID-19 relief.

If your programs are struggling to stay afloat, let your community members give back. CommunityPass can process online donations that you can use for future programming and to help your current staff.
With a dedicated software solution like CommunityPass, you're prepared for anything that comes your way. Easily facilitate working from home, keep community members and staff informed and connected, and have the tools to bring engaging programming and opportunities to your residents' homes.

Virtual and At-home Programming Ideas for Parks & Recreation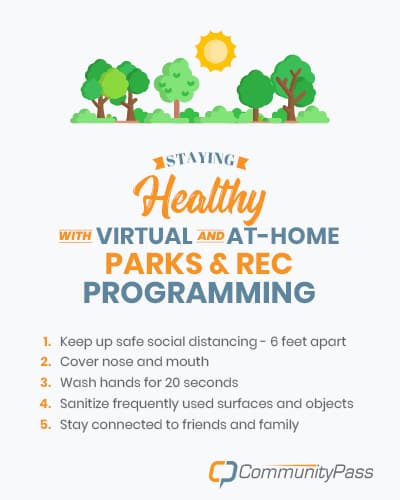 Though normal Parks & Recreation programming should be on a pause, this is an opportunity to engage your community members in ways you haven't before. With recent technological innovations, you can take advantage of a variety of tools to offer virtual experiences. Some popular digital delivery methods include Zoom (for video conferencing), Facebook and Instagram LIVE (for live streaming), Youtube (for content creation and sharing), and public access channels (for reaching a mass audience, especially less tech-savvy senior citizens).
Once you're equipped with the right tools and set up the necessary software, you can start brainstorming virtual programming ideas. We've come up with a list of our own to help you get started:
Virtual Programming Ideas for Parks & Rec
Virtual field trips/tours.

With virtual field trips, children and other community members can visit popular places without ever having to leave their homes. To offer virtual field trips, consider setting up a livestream at your local zoo or recording a walk-through of a popular museum exhibit or park. It's the perfect way to engage your community while still maintaining safe social distancing.

Individual outdoor exercises. Encourage your community members to take advantage of their own neighborhood and go one short walks, runs, or bike rides! Just remember to maintain safe social distancing practices and avoid large groups of people.
Neighborhood scavenger hunts.

Kids are sure to get antsy if they're cooped in all day. Consider encouraging neighborhoods to host "scavenger hunts" that don't involve any face-to-face interaction. For instance, some towns are

putting teddy bears

in their windows to entice families to go outside and count how many they can find! Simply go on a walk (but maintain 6 feet apart!) or take a quick drive. You can ask your community to put up teddy bears themselves, or another fun object like a local sports mascot.

Chalk the Walk

. A popular quarantine activity for families has been creating art. Take this to the community level by encouraging people to draw beautiful creations and spread positive messages with chalk on the sidewalks. This isn't just fun for the artist, but other people walking by can also experience some joy.

Lead an online exercise class for those to follow at home

.

Along with other non-essential businesses, many gyms and exercise classes had to close as well. Encourage your community members to stay active at home by live streaming or hosting a Zoom workout class. You can then save the live streamed video and post it so people who couldn't make it can still take advantage of the resource!

Encourage at-home activities.

Even though most of us are stuck at home, it doesn't mean we have to spend our days doing nothing.

Motivate your community to do some spring cleaning, cook something challenging (

bread, anyone?

), and other at-home projects they've been putting off. Once they're done, they can post their completed activity on a virtual bulletin board for the rest of the community to admire.

Arts & crafts or experiments

. With kids at home more, it's going to get harder to keep them entertained. Provide community members with fun at-home experiments or arts & crafts to try out. Making

rock candy

is an easy (and tasty!) example.

Backyard Camping

. Most of your usual spring and summer activities probably have to come to a halt, like camping. However, you can easily camp in your own backyard! Though this requires ample yard space and camp equipment, it's still a great activity to offer your community members.

Swimming bathtub lessons

. With your local pool and aquatic centers closed, kids are itching to get in the water and start swimming. Try creating videos to show parents how they can teach their children to swim in their very own bathtub. Start with the regular safety lessons and then work your way up to floating and practicing form!
Feel free to use any of our ideas and tweak them to make it your own! Just because we're all at home, doesn't mean we shouldn't be engaging with our community and staying connected. While we have to ensure our physical health is at peak condition, your mental health and wellness are just as important.

Recreation Management Software + Programming Resources during the COVID-19 Pandemic
Along with this guide of top tips and best practices for recreation management during COVID-19, we have also compiled a list of additional programming resources.

Recreation Software + COVID-19 Resources for Management and Employees

Parks & Rec COVID-19 Resources for Parents & Caregivers
Child Mind Institute's Talking to Kids about the Coronavirus

. For many kids and teenagers, this pandemic is the first global crisis they've encountered. If you're a parent or caregiver struggling to communicate the real-life risks and best practices with your children, this article can help.

Child Mind Institute's Supporting Families during COVID-19

. COVID-19 is affecting us all, especially parents who need to balance work, child-care, and self-care. Check out these resources that Child Mind Institute has put together if you need some guidance.

National Association of School Psychologists

. It can be hard helping your children cope with the changes that COVID-19 brought when you are feeling them as well. NASP can help you talk to your child about these changes as well as offer best practices as you're all staying home.

General COVID-19 Resources for Parks & Rec Management
Official COVID-19 website

. With help from the CDC, the White House, and FEMA, this website has been created to help spread the right information, as well as

stop

the spread of the virus.

National Park Service

. Remember to continuously check the National Park Service to stay updated on new changes or policies that might be put into place.
Conclusion
Here at CommunityPass, we value our customers and community members more than anything. Make sure to maintain safe and healthy practices, while also continuing to keep your community engaged. If you're ready to see if CommunityPass is right for you, try our free demo!