Parks & Recreation Management: Navigating the New Normal
| Written by
CommunityPass
|

Back

As COVID-19 continues to affect the global economy and the way in which everyone interacts with their surroundings and peers, parks & recreation professionals across the board are working hard to create safe spaces for all visitors.

Here at CommunityPass, we put health and safety first. The way society operates is changing every day on a global, national, and local level. Above all, we want to help you keep your community safe and answer key questions that many of you likely have. Learning how to rapidly adapt to not only legal changes, but also the needs of your patrons is crucial for maintaining everyone's safety, as well as their trust.
That's why we've written this guide to help parks and recreation leaders survive and thrive amid these new challenges. We'll cover:
Our guide will give you the resources to navigate the current and lasting effects of the pandemic to help you operate at your best. Let's get started.



Parks & Recreation Management: Best Practices for the New Normal
With constant changes to recommendations from the CDC and fluctuating comfort levels of patrons, it can be difficult to figure out how to proceed. You may often feel like things have changed as soon as you figured out a plan.
While there will likely continue to be changes, you can follow a few best practices to help streamline your plans and maintain consistency in your policies.
1. Host events outside
As the pandemic continues to change and progress, some patrons may be fully vaccinated or feel comfortable attending indoor events. However, keeping your events outdoors ensures that everyone who may want to visit can do so safely without feeling uncomfortable.
This is easy to do during the warmer seasons but may present challenges during winter or particularly rainy seasons. As you plan for the future, consider what outdoor facilities and features already exist on your property and if there are any additions you can make to allow for outdoor activities during less favorable seasons.
Even as winter starts, you can consider hosting winter-themed activities like:
A holiday market
Ice skating
A snowman building contest
Transitioning as many events as possible to the outdoors is one of the best ways that you can continue in-person programming while keeping your patrons and staff safe!
2. Use contactless solutions when possible.
Even when you have patrons coming to your facilities in-person, having a robust digital system can enable them to sign up, fill out required forms, communicate, pay, and explore your resources without needing assistance from staff and without using communal items, like pens.
This is not only a great option to limit physical interaction during a pandemic, but it also helps streamline your processes. When patrons can complete items beforehand or at the same time from their individual devices, you can complete sign-ups and check-ins, faster. The right software will give you a wide variety of capabilities that allow your patrons to do as much as possible from their own devices. Software specifically made for parks and recreation departments, like what CommunityPass offers, will be best able to meet all of your specific needs when it comes to events, resources, communication, and more.
Software with contactless solutions allows patrons to:
Sign up for events online.
Pay any fees via credit card.
Stay safe while still engaging.
CommunityPass parks and recreation software offers the ideal kind of contactless options that your departments need right now.
3. Allow your staff to work remotely when possible.
While remote work has become the norm for many organizations, we know this is not a possibility for all parks and recreation employees.
However, if there are members of your staff who can perform at least parts of their job from home, giving them the opportunity to work remotely can keep everyone safe while being a big perk for many employees. Allowing remote work shows your employees that you care about their well-being and are dedicated to helping reduce their stress during such a difficult time.
Especially because not all of your staff will be able to take advantage of flexible work policies, it's important to offer adequate sick leave to accommodate individuals who may get sick or exposed. You may also want to consider offering some mental health relief policies and resources.
4. Wear masks when indoors.
As discussed, the winter and rainy seasons will present challenges for hosting outdoor events if you do not already have the facilities to do so. In some cases, it will be entirely impossible. For the times when you have no choice but to host an event indoors, ensure everyone's safety by requiring masks to be worn at all times.
You can facilitate mask-wearing by:
Clearly telling patrons that masks will be mandatory prior to the event.
Posting clear signs reminding guests around your building.
Providing disposable masks in case someone forgets.
Serving all food and drink in individual to-go containers.
Having staff gently remind patrons during your event.
Inevitably, you will likely have a few patrons who forget or are resistant to wearing a mask but if your policies are clear and you and your staff are proactive in enforcing them, you will be able to keep your patrons as safe as possible.
5. Prioritize easy communication with staff, participants, and park goers.
Because guidance and the policies of different organizations are changing so rapidly and frequently, it's of the utmost importance to keep your patrons updated. Similarly, your staff should always have accurate information about your policies for themselves and to share with patrons who may ask. Here are a few ways to prioritize communication:
Keep your website updated.
Send out email newsletters with policy changes.
Post clear signs outside your facility.
Train all employees on the correct policies.
Ask patrons to read a policy page when signing up or buying tickets.
It's also a good idea to implement measures like offering free masks if any patrons do not get the chance to read your communications.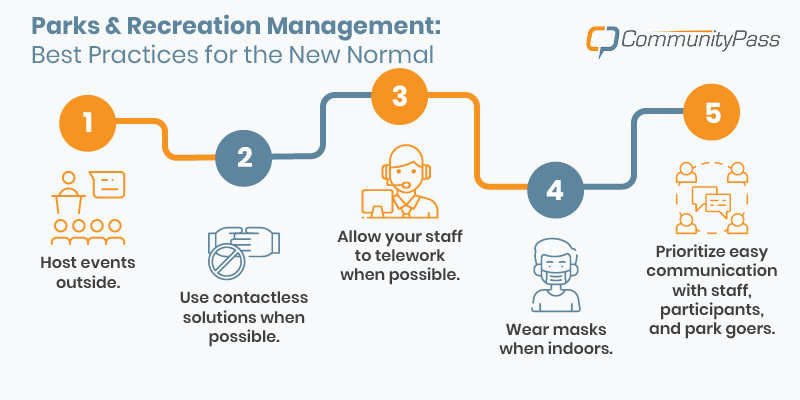 How to Maintain or (Increase) Attendance During the Pandemic
During the beginning stages of the pandemic, you likely saw a dramatic decrease in attendance, followed by a wave of interest in virtual events. As Zoom fatigue has set in, excitement for virtual events has now waned and you may be struggling to re-engage many of your patrons. To help get you and your patrons back in the swing of things, here are a few ways to engage patrons:
1. Use multi-channel marketing.
Multi-channel marketing essentially means spreading your message in several different ways. It makes sense that sharing it in more than one place would reach more people! Of course, not every channel is going to be best for reaching your desired audience so use your best judgment to make good use of your resources. A few different methods you can use include:
Email newsletters. This is a great way to market events and programs to your existing community that is signed up for your emails.
Community partnerships. Hosting a co-sponsored event or putting up signs in a business that partners with you can help you reach people in your community who have a higher chance of being interested in your offerings.
Social media. There are many different platforms you can choose to use from Facebook, to Instagram, Twitter, TikTok, and more. This option is good for building a brand and online community that you can market to — not just one-off marketing.
Wherever you choose to market, it's important to reach different audiences and do so in a way that best utilizes the platforms you chose. For example, if you choose to put up posters in your community, send out a monthly newsletter, post events on Facebook and start building a brand on TikTok, you need to do your research to learn the best practices for each of these channels.
How long are the most effective Facebook posts? What kind of videos get a lot of attention on TikTok? What's the best subject line to use if you want readers to open your email? Take the time to learn best practices and adjust your strategy as you go for the best results.
2. Meet the needs of your community.
The reasons your community came to you before may be very different than why they might come to you now. For example, the pandemic has increased the need for mental health-related programs. While mental health may not have been a focus of your programming prior to the pandemic, it's a good example of how you may need to pivot your usual programs to better suit your community's needs.
Here are a few examples of ways to incorporate these needs into your programs:
Mindfulness classes
Nature walks
Yoga classes
Sharing mental health resources
While no one expects you to be mental health experts and be the primary resource for your community, it can still be helpful to show your community that you understand their struggles and want to support them however you can.
3. Make engagement as easy as possible.
Despite everyone being in front of some kind of screen every day, your patrons may still struggle to engage for a variety of reasons. Depending on their comfort level with technology, they may face difficulties navigating your website or getting the information they need. Even if they're adept at using smartphones and computers, they may simply get overwhelmed by confusing information or just forget about events! Here are a few ways for you to support your patrons and help them get engaged:
Write clear instructions and event descriptions. If your patrons are confused about what to do, how to do it, where to go, or when, they may become overwhelmed and simply choose not to engage. While confusion can happen sometimes, you don't want this to be a regular occurrence with your programming. Always be as clear as possible!
Streamline your website. Because your patrons will be using your website to get their information online because of more limited or adjusted in-person resources, it's important that your website is easy to navigate and has all of the information they need. Making sure that registration on your website is easy to use will also help ensure that your patrons can sign up for all of your events.
Communicate frequently. It's easy to forget about events happening virtually so reaching out to your supporters regularly and reminding them about events can help make it much easier for them to engage.
While these suggestions may help some of your patrons, others may be experiencing different issues. Take the time to reach out to and talk to some of your frequent patrons who are not as engaged lately. You might learn how you can better help them and others like them while showing them that their participation truly matters to you.
4. Offer a variety of virtual, hybrid, and in-person events.
Because different members of your community have different levels of comfort with in-person events, and because you want to keep everyone safe, it's best to offer a variety of program options to accommodate everyone's needs. As a recreation center, you are in a great position to offer many different kinds of events and services that are both safe and fun for all ages.
Having options for all members of your community is one of the best ways to promote engagement and get everyone involved. If you're unsure of where to start, we have several ideas for exciting virtual, hybrid, and in-person events listed below to help you out.

Favorite Virtual, Hybrid, and In-Person Program Ideas For Parks & Recreation
Although you still may not be able to run all of your normal parks and recreation programming, you have an opportunity to engage your community members in ways you haven't before. Luckily, parks and recreation departments are uniquely positioned to be able to provide more outdoor programming than many other types of organizations.
While you modify some of your usual programs to better protect your patrons' health, you might still find the need for some tech and software to enable you to offer virtual experiences. Some popular digital delivery methods include Zoom (for video conferencing), Facebook and Instagram LIVE (for live streaming), Youtube (for content creation and sharing), and public access channels (for reaching a mass audience, especially less tech-savvy senior citizens).
Regardless of the balance that you've found between virtual, hybrid, and in-person events, the most important thing is to continue providing ways for your patrons to stay engaged. To help you keep your programming engaging, we've provided some ideas for virtual, hybrid, and in-person events.
Virtual Programming Ideas For Parks & Rec
Virtual
Virtual field trips/tours. With virtual field trips, children and other community members can visit popular places without ever having to leave their homes. To offer virtual field trips, consider setting up a livestream at your local zoo or recording a walk-through of a popular museum exhibit or park. It's the perfect way to engage your community while still maintaining safe social distancing.
Lead an online exercise class for those to follow at home. Along with other non-essential businesses, many gyms and exercise classes had to close as well. Encourage your community members to stay active at home by live streaming or hosting a Zoom workout class. You can then save the live streamed video and post it so people who couldn't make it can still take advantage of the resource!
Arts & crafts or experiments. With kids at home more, it's going to get harder to keep them entertained. Provide community members with fun at-home science experiments or arts & crafts to try out.
Webinars. There's a large variety of educational webinars you could host for your community to keep them engaged. You can bring in professionals as guest speakers to give a lecture or lead a discussion about a relevant topic. Whether it's about an endangered species in your area or what makes the leaves change in the fall, there's likely an interested audience in your community.
Hybrid
Scavenger Hunts. Kids are sure to get antsy if they're cooped in all day. Consider encouraging neighborhoods to host "scavenger hunts" that don't involve any face-to-face interaction. You can do nature-themed scavenger hunts with items already out in nature, or create themed scavenger hunts that you set up. Using different holidays and seasons as your inspiration for themes can be a great way to create an exciting scavenger hunt!
5K Run or Walk. You've likely participated in a regular, fully in-person 5K or know someone who has. A hybrid 5K is not that different! The primary difference is that instead of gathering in one place to run physically together, your participants will track their walk or run in their own neighborhood, local park, or any other location. Despite being in different locations, participants will start at the same time and can engage by posting photos and videos of themselves to your dedicated social media hashtag! Everyone can gather together virtually at the end of the 5K to celebrate your achievements.
Family Nature Club. Give the families in your community the opportunity to join a club where they can do different outdoor activities as a family each week and engage with an online community of other families participating. A Facebook group can be a great way to post the weekly activity and have families share photos and posts about their experiences!
Move for Health Day. Organize a day for families to get moving while engaging online. Similar to a hybrid 5K, you can encourage families to post a picture of what physical activity they're doing on your Move for Health Day. You can even provide ideas for ways to get active, like hikes, jump rope competitions, or relay races.
In-Person
Yoga Class. During warmer seasons, this can easily be done outdoors to safely accommodate a group. You can make this accessible for all members of your community by offering classes for different ages or experience levels.
Tree Planting Program. Getting families involved in an activity to do good while staying safe outdoors is a perfect way to promote your values in the community while creating safe opportunities for families to get out of their homes.
Rec Sports. Any family with kids will love this activity! While this can be outdoors, it will likely require more contact with others than some activities. Consider providing the space and equipment for families to play in the same league or requiring vaccinations if non-family members will be playing together.
Art Festival. There are likely many creatively gifted members of your community that would love to have the opportunity to share and even sell some of their art. Organize an outdoor art festival with vendor booths and arts and crafts stations for kids to get their hands dirty.
This is only the beginning of the many activities that you can organize to fit everyone in your community's comfort level. With a little creativity and feedback from your community members, your calendar can be full of exciting and unique virtual, hybrid, and in-person activities.



Top Benefits of Recreation Management Software
CommunityPass is a dedicated recreation management software solution. Founded in 2002, CommunityPass was launched by people just like you: parks and recreation professionals.
Not only is CommunityPass beneficial for day-to-day recreation management, but it's also a helpful solution for those that are struggling with the new virtual necessities brought by COVID-19. Here's how CommunityPass can help:
Easily let your staff work from home via a cloud-based system. This way, you know that all data and operations are centralized and up-to-date. As your staff members are safe in their own homes, they still have access to all the important internal processes they need.
Keep in touch with community members with the Message Manager tool and the Public Calendar on your website! Make sure to regularly update your community members with any new changes to your programming.
Leverage contactless solutions. Creating a system that allows your patrons to check in, use park maps, or any other features through their own phones instead of a physical resource can help reduce contact between patrons and staff.
Bring your programming online by sending out the relevant links through custom receipts or to the entire roster via Message Manager. Simply ask your community members to register online for a virtual program and then CommunityPass will help provide the right links!
Send out community best practices and activities to help pass the time when people are self-quarantined. Scavenger hunts, biking, and walking are all great ways to stay active while still practicing safe social distancing.
Manage virtual programming with CommunityPass' Instructor Site tool. This lets program leaders and educators manage activities and classes online. All within CommunityPass, they can take attendance and even directly contact students!
Quickly alert new registrants of updated cancellation policies. As your policies and program guidelines change, CommunityPass gives you free control to customize your online registration. Admins can incorporate customized forms with the updated policies within the registration process.
Get staff and your community ready for future programming. With CommunityPass, you can start working on your future registrations now and take advantage of social sharing features to spread the word.
Collect donations. If your programs are struggling to stay afloat, let your community members give back. CommunityPass can process online donations that you can use for future programming and to help your current staff.
With a dedicated software solution like CommunityPass, you're prepared for anything that comes your way. Easily facilitate working from home, keep community members and staff informed and connected, and have the tools to bring engaging programs and opportunities to your residents' homes.
Conclusion
We value our customers and community members more than anything. As the pandemic progresses and we all do our part to get back to normal, make sure to maintain safe and healthy practices, while also continuing to keep your community engaged with our updated resources. If you're ready to see if CommunityPass is right for you, try our free demo!