Recreation Management Software: A Complete Go-To Guide
| Written by
CommunityPass
|

Back


Parks and recreation leaders are often juggling recurring administrative tasks, from processing program registrations and renewing memberships to scheduling facility rentals. However, making sure your recreation programs run smoothly doesn't need to be overwhelming. With the right tools, you can easily streamline your operations and facilitate programs without overextending your staff.
This is where recreation management software comes in. The best parks and recreation management software integrates all of your day-to-day tasks and more complex functions into one comprehensive solution.
It's likely that you've already dipped your toes into software solutions and have invested in one. But is that solution meeting all your needs and doing all it can for your community? Whether you're just beginning to explore recreation management solutions or you want to upgrade your current software, it's a good habit to start your journey with research:
Recreation management software can revolutionize your perspective on managing a parks and recreation department. Let's dive in and see how.

What Is Recreation Management Software?
Recreation management software is a comprehensive, easy-to-use solution designed to centralize the management of demanding day-to-day operations.
Acting as the hub for managing your activities, programs, leagues, facilities, memberships, and point-of-sale, the solution you choose should cater to all of your recreation needs. When allowed to reach its full potential, there is truly no limit to the good that dedicated software can do for your operations.
Specifically, recreation management software benefits leaders of municipal parks and recreation departments, park districts, pools and aquatic centers, sports leagues, and other community recreation facilities. With a dedicated platform to oversee and facilitate programs, leaders like you can engage more meaningfully with your community and provide truly valuable experiences through:
Facility rentals.

Cultural and enrichment programs.

Fitness classes.

Swimming lessons.

Tickets to community events.

Senior citizen services.
Your community deserves the opportunity to participate in these programs (and more!) but without the right parks and recreation management software, it can be very challenging. Not sure if your current solution meets those needs? Let's take a closer look at some of the features your comprehensive and effective parks and recreation management system should offer.

What Features Should I Look For In Parks And Recreation Software?
It's likely that your parks and recreation department wants to offer a myriad of programs and host various events. However, there's much more that goes into this process than just creating sign-up forms. With parks and recreation software, you have access to a wide range of functions that strengthen not only your parks and recreation department's operations, but also how you engage with the community.
However, not all parks and recreation management software platforms are created equal. When searching for recreation software, look for a solution with the following essential tools: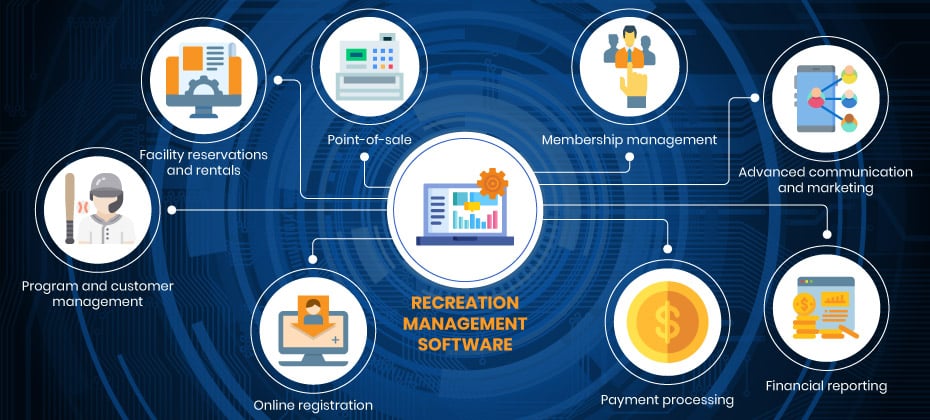 Online Registration
Online registration means every member of your community has the opportunity to register for the programs and activities from the comfort of their own homes and through their preferred devices.
Your recreation management software should enable community members to browse an online catalog of programs, classes, and activities, decide which appeals to them, and complete their registration entirely online. With this online directory of activities, residents of your community can easily sort through programs and view the ones they are eligible for.
It's also a good idea to make sure your online registration tool allows registrants to sign up to be a volunteer, make a donation, and purchase merchandise and tickets for local events. Remember to make this entire process optimized for mobile use, as well. You never know which of your community members will be browsing through your program catalog from their smartphones.

Payment Processing
With online registration comes online payments. When picking the best recreation management software, make sure it also has comprehensive payment processing capabilities.
Specifically, look for a recreation management system with integrated payment processing. This ensures members complete their registration, start to finish, all online. No longer do your registrants have to worry about mailing in a check or dropping off cash. Your integrated payment solution should:
Be PCI compliant

to ensure that it is in line with the necessary protection guidelines set by the Payment Card Industry. All online payment tools

need

to be PCI compliant if you want to securely process digital transactions and protect your registrants' data.

Accept all forms of payment.

Online registration increases convenience for your members, but this is taken away when they can't pay for the program with the method they want.

Your software should be able to accept credit and debit cards, checks and eChecks, and cash.

Provide automatic bill pay

for memberships and programs with recurring payments. This will automatically charge someone when their payments are due. Registrants should be able to opt-in or out of this.

Facilitate point-of-sale.

Being able to accept payments in person is crucial, especially for facilities such as pools, aquatic centers, and recreation centers. These facilities tend to need a point-of-sale system to sell memberships, day and guest passes, or admission to a class. Plus oftentimes, snacks and other goods are sold at a facility's concession stand and need a point-of-sale system to manage this efficiently.
With digital payment processing, you save time for both staff and community members. And, it comes with the added benefit of not needing to handle a lot of cash at the recreation office or on-site at the facility. Just make sure your software is PCI compliant so you can securely accept all digital tenders.

Membership Management
A core component of leading a parks and recreation department is managing your community members. With all of the different programs and memberships you offer, it makes sense that people engage in your offerings in varied capacities. Ensure your membership management program allows for customized membership packages and passes.
A dedicated recreation management solution allows you to take this entire process digitally, eliminating the need to manually manage complex membership and billing options. Your system should sell memberships and passes online (and in person), easily create ID cards, implement new scanning tools, and quickly find member information as needed.
Your staff should be able to set eligibility requirements for all membership packages and passes based on age, residency, etc. This way, people can browse through membership options and choose the one that best meets their needs. Your recreation management platform should offer a variety of passes and membership plans such as:
Limited, fixed-duration memberships.

Rolling or recurring memberships.

Seasonal, day, guest, and free passes.

Individual and family packages.

Resident and non-resident memberships.
These different membership types will ensure that all community members are able to engage in your programs on their terms. Once they input their payment details, they'll receive identification badges and be able to immediately and conveniently sign up for programs and check in to your facilities.
Plus, going digital streamlines the member experience in other ways, too. Automatic bill pay for recurring payments, badge scanning for entrance to facilities, automatic membership renewals, and membership expiration reminders all work to improve the member experience.

Facility Reservations And Rentals
Every parks and recreation department has inevitably faced a scheduling nightmare or accidentally double-booked a facility. With a capable recreation management solution, the days of juggling schedules, rentals, and facility reservations are over.
Your solution should have an integrated online reservation manager. This provides staff with a centralized and up-to-date master calendar, allowing them to make informed decisions and ensure even last minute changes go smoothly. Staff members can view facility availability and book and adjust reservations, all in one comprehensive system.
With this tool, your organization can get the most out of its facilities and even promote facilities online. So many municipal facilities like community centers or local parks go unused. Using your recreation management solution, you can create vibrant, exciting web pages for each facility, highlighting their benefits and specifications, all while advertising its availability.
Meanwhile, other community members should be able to surf through your facility listings, request the time and date they need, and even pay online once their request has been approved by your staff. Your recreation management solution effectively streamlines the entire rental process for both your staff and the community.

Advanced Communication And Marketing
In order to promote your programs, renew memberships, and keep in touch with your community, your recreation management solution needs to have advanced communication and marketing capabilities. As with any of your other management tasks, using a centralized, streamlined system is always the smartest move.
How you communicate with your community is critical. The more valuable your conversations are, the more likely they'll be to register for your programs and continue to renew or even upgrade their membership. Make sure you can:
Segment your recipient list.

Segment your list of recipients by program, grade, age, etc., so that you only send messages to the individuals who meet your criteria. This will cut down on unnecessary messaging and make individuals more receptive to the targeted messages you do send them.

Personalize your message.

With an integrated system, you can easily pull key member data to optimize your communications. Insert personal or family names to customize your messages to each recipient.

Send alerts and reminders.

Quickly send cancellation alerts and reminders to every relevant member of your database via email and text.

Schedule messages in advance.

Plan ahead and send messages to your registrants without remaining tied to your device.

Make the most of texts.

Integrated mobile messaging features can be invaluable for sharing updates simultaneously with your emails. A pool closure due to a thunderstorm or a last-minute location change for a class are typical examples. Text messages will dramatically increase the likelihood that important, time-sensitive messages are received in time.
With these advanced communication capabilities in mind, use those same tools to market your exciting programs and activities. Send marketing emails to community members based on their program eligibility and preferences to help increase enrollment for all of your programs. You can even take this a step further by using segmentation.
For instance, identify individuals who have participated in your programs in the past and use the segmentation tool to target them when you promote your upcoming programs and events that you think they would be interested in and eligible for. All effective operations rely on the ability to communicate with the right people when it matters most. With the right tools, you'll be able to do just that.

Financial Reporting
If you want to increase efficiency and decrease costs for your department, then you need a recreation management solution with integrated financial reporting and payment processing. When everything is managed through the same system, you can reconcile payments with registrations and compile comprehensive reports on your programs, facilities, and members.
Your recreation management solution should give you the following financial reporting capabilities:
Track daily deposits and transfers.

Reconcile collections with registration records.

Customize comprehensive reports.

Access a financial dashboard to view and download reports, monthly statements, and settled vs. unsettled payments.
With the right recreation management software, your department should be able to access accurate, detailed reports in a single click. These reports help you track financial data and understand how your department is functioning. Having access to key data points and relevant metrics can help you make informed decisions about the future of your department, the programs you plan, and the memberships you offer. These insights won't just improve how your recreation programs operate, but can also help you grow your overall revenue.
Make sure you can also easily download reports to Excel so you can quickly communicate results to individuals without access to your database. This and other key insights should be completely accessible from your comprehensive financial dashboard.
Point-of-Sale
Alongside your digital payment processing capabilities, you also need an integrated point-of-sale system so that you can quickly and easily facilitate on-site transactions. Any transaction that happens at the front desk of a center or facility, like checking members into a class or selling snacks at a concession stand, needs a comprehensive and effective point-of-sale system.
Your recreation management solution and its point-of-sale tools should allow you to:
Check-in registrants or members into a facility, into a class, or program.

Sell any type of item at concession stands.

Sell memberships and passes or process a registration on the spot.

Accept cash, credit cards, and checks for on-site sales.

Look up a member profile and edit account information at the front desk of a facility.

Check an account balance quickly and efficiently.
Taking this in-person service digital is crucial if you want an accurate way to track all of your financial data and keep this process organized. It also provides a convenient way for your members to purchase items on the spot. All they need is a form of payment, and they're good to go!

Program And Customer Management
Depending on the types of programs your department hosts, the tools you'll need to manage those programs and their participants will likely vary. However, your recreation management solution should provide the essentials.
For starters, your staff should be able to easily set up an online catalog of programs and customize each activity with its own eligibility criteria, whether that's based on age or location. You should also have the ability to manage capacity to ensure that all programs can operate efficiently and safely with the number of registrants capped. Implementing wait lists is also a key feature to have in recreation management software. Your staff should also be able to digitally manage waitlists in real-time to allow people into a program when there are cancellations.
If you're looking for more specialized management capabilities, ensure your recreation solution can support those. For example, let's say your department is in charge of managing the community sports leagues. You'll need a tool that can form teams, build rosters, manage player information, integrate scheduling, and facilitate communication between coaches, players, and parents. Or, maybe you offer before and after care programs for your young community members. You'll likely need digital attendance tools and flexible scheduling for parents.
The current solution you have should reflect those above needs. Investing in a new or upgrading your current recreation management software with specially designed league management tools or before and after care capabilities is your best bet.

Who Benefits From Recreation Management Software?
Recreation software has an enormous impact on how your department runs and how your community engages with your department. Explore the concrete benefits of recreation management software through its impact on both staff and community members.
How Does Recreation Software Help Parks And Recreation Staff?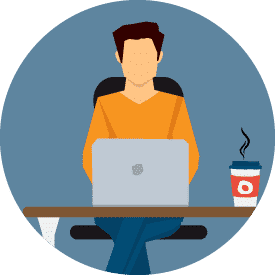 When using the right recreation software, your parks and recreation administrative staff will see plenty of benefits like:
Reduced amount of paperwork.

Limited number of phone calls and no lines at the registration office.

Reduced administrative costs (printing, paper, etc.).

Increased participation and revenue.

More time to focus on delivering amazing programs to the community.
However, the benefits don't end there. Your team will also have an easier time promoting your events and activities because the registration and participation process is so efficient and easily accessible to community members. Software with integrated text and email functionality allows you to quickly announce upcoming programs and send pertinent information to all relevant members.
Along with that, each engagement and data point is always available to you and your staff members. Don't underestimate the value of housing all of your important information in a centralized database. With a 100% cloud-based solution, your staff has 24/7 access to accurate, easy-to-use, and real-time data from any location. This means even your remote or traveling staff can access and implement the information they need with ease.
This also means that all of your financial data is in one place. Financial staff can better calculate your budget and expected revenue when they're able to compile financial reports. These reports can also provide insight into which memberships are most popular, how profitable day passes are, and more. Having a better handle on your department's spending and revenue can give you a better clue to the types of programs and activities you should create to increase participation.
How Does Recreation Software Help The Community?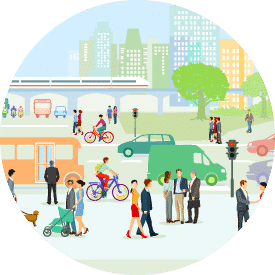 Community members will love the fact that they can register for programs, memberships, and events online with ease. People will get excited about the opportunities available to them and fill their schedules with your programs, all from the convenience of their own device anytime, anywhere.
Along with the above, your recreation management solution ensures the following for community members:
Trusted and reliable relationship with your recreation department.

When managing personal, confidential information in a digital database, registrants will be able to rest assured that their information is much more secure than if your department was still juggling stacks of paper and binders.

Programs and events that members are excited about. When operations are streamlined, your parks and recreation department will be able to offer more programs to more people, ensuring that all members of your community will be able to find an activity that appeals to them.
Consider adopting recreation management software to ensure your parks and recreation department is reaching its full potential. With an effective software platform in place, you're able to streamline all operations and stay connected with your community.

CommunityPass: Our Top Pick For Recreation Management Software
When exploring your options for recreation management software, you have to consider how the solution will impact both your own internal team but also your valuable community members. That's why CommunityPass is our top pick for recreation management software.
As a 100% cloud-based solution, CommunityPass is poised for long-term growth and innovation on its existing platform. As your department grows and the programs you offer expand, your management solution should as well. In contrast, other solutions in the industry are still making the difficult transition from legacy/client server solutions, resulting in disruption of service, additional workload, and increased costs for their clients.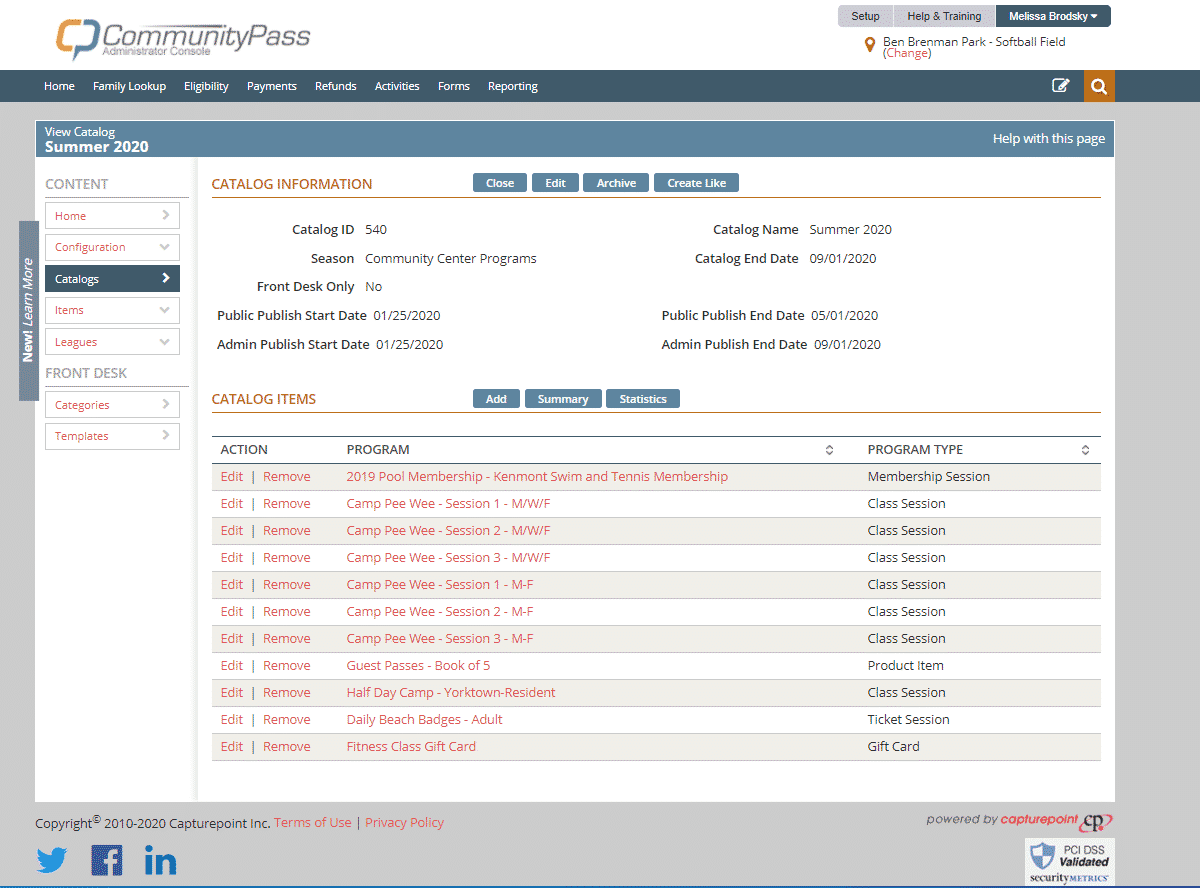 Above is an example of what the CommunityPass system can offer you. Gain a comprehensive view of your program catalog, and edit or remove information with ease. You can browse program type, access front desk tools, and explore reporting features all from our comprehensive recreation management system. You also get access to the following benefits:
100% cloud-based solution

so that employees can work from anywhere — at the office, home, on-site at a facility — and still have full access to your data 24/7.

Configurable software.

As a flexible and completely integrated product suite, CommunityPass can be configured around your unique department needs so you can run your programs the way they need to run vs. forcing your operations into the confines of a one-size-fits-all solution. We offer customized pricing procedures, capacity management, and more.

Community website.

Our CommunityPass software provides every client with a community registration site that makes it easy for customers to interact with all participating organizations and programs in their community with a single log-in. Build a thriving community by making it easy for people to get involved, get outside, and take advantage of the value you are providing.

Contactless membership solution for pools and recreation centers.

Our solution allows for touchless facility entry with scannable member ID cards. If members forget their ID cards, front desk staff can use the POS system to quickly look them up by name or another identifier and check them into the facility.

Modern front desk point-of-sale solution

. Along with checking members into a facility quickly, front desk staff can use the POS system to sell membership or day passes on the spot, check account balances, and sell merchandise or concessions.

Integrated payment processing solution.

Our integrated payment tool is embedded directly into CommunityPass, is PCI compliant, and accepts a variety of payment methods. We also provide a financial dashboard so your payment data is at your fingertips and can easily be viewed and downloaded.

Comprehensive reporting

. Pull data from your finances, your memberships, and program registrations. CommunityPass can even compile real-time on-site reports to help with contact tracing compliance if needed. CommunityPass has 300+ pre-built reports to use from as well as a comprehensive report design tool.

Marketing and communications tools

to send notifications and alerts to the right community members. CommunityPass also provides the tools to help you advertise programs,

camps

, memberships, and events in your online catalog. This can be done with email or text messaging, along with social sharing capabilities.

Sports league management tools

to empower your community leaders and make it easier than ever to register players online, organize leagues and teams, and set up a game schedule. Leverage CommunityPass' tools to quickly communicate with players through email or text, ensuring that all urgent game updates are relayed in a timely manner.

Before and after care management capabilities.

Many parks and recreation departments manage these types of programs for their community members. CommunityPass offers specialized tools such as flexible scheduling with drop-in options, recurring payments for your regular attendees, digital attendance with contactless check-in/check-out and photo ID confirmation, and more.

Seasoned implementation, training, and customer support teams

. Our implementation team is made up of veterans with 18+ years of experience implementing CommunityPass for parks and recreation departments. Their leadership and knowledge adds value, reduces stress, and ensures that the solution delivers the maximum benefit. Typically, a software implementation team is reassigned when the account launches, leaving the client disconnected from those who know their unique solution best. With CommunityPass there is no disconnect. Our clients always have access to the team that got them up and running.
With CommunityPass on your side as you manage your parks and recreation department, there's no limit to what you can do. Adopt our recreation management solution to ensure your department is reaching its full potential. With our effective software platform in place, you will streamline all of your operations, benefiting your staff and your community alike.
Additional Resources For Recreation Management Software
As mentioned before, the first step to upgrading your recreation management solution is with effective and ample research. Continue exploring the best types of software for your unique department specialties with the following additional resources:
GET YOUR FREE DEMO!